2004
Rudyard Kipling once said that – The first condition of understanding a foreign country is to smell it – how true was his advice for Maureen & I when we began our DIY travelling in retirement. Having spent time at sea in my teens and early twenties I had often promised Maureen that one day I would like to take her to some of the places that I had visited in the early 1960s. It started in 2004 after a close friend of my wife and I became seriously ill in late 2003. I had planned to surprise my wife with a trip to the UK in 2005, which would be our 25th anniversary of living in Australia. Maureen hadn't been back to the UK since emigrating and I thought after 25 years it would be a nice surprise for her. I planned to use frequent flyer points, Visa points and as little cash as possible. Due to our friend's illness it dawned on me just how fragile life is, so I decide to bring forward the 2005 trip to 2004, which coincidentally was our 35th wedding anniversary. I checked as many outlets as I could using the internet and in the end booked Virgin Atlantic, Sydney to London (Heathrow), via a local agent. It turned out that Virgin Atlantic and Malaysian Airlines were code-share partners on the Kangaroo route, so we didn't actually fly on a Virgin aircraft, but on a Malaysian Airlines B747 – which was the start of our relationship with Malaysia, the people of Malaysia and their airline. The funny thing was that the business class (I wanted the holiday to be remembered) ticket flying Virgin Atlantic, was cheaper than the same ticket on Malaysian Airlines – but we flew on their aircraft. As I said, I bought the ticket from a local agent after doing the internet research and asking the local agent to beat or match the online price. At that time I still liked the face to face connection, as I knew that agents received a commission from the airlines for selling tickets. It would be a couple of years later that the same agent started to charge a booking fee, which could be as high as $100 a person, because the airlines had either dropped their commission fees or lowered them so low that the agent had to charge a fee to stay in business. Included in the cost of the business class ticket was the use of a limo from our home to the airport. At the designated time a large stretch limo turned up, which could seat eight – with a well stocked bar – for the two of us. It was fortunate that most of our neighbours were at work as it was a little OTT! But still a very nice experience, except for me sitting at the back, the motion of such a long vehicle made me feel car sick! I even felt too ill to try anything from the bar. We flew to Kuala Lumpur to connect with the Kuala Lumpur to Heathrow service (we were ticketed all the way on Virgin Atlantic) – overall we were very impressed with the Malaysian Airlines service. On arrival in Heathrow we were met by a chauffeur with a much smaller limo, but no less impressive. The whole of the Virgin Atlantic service was very efficient. The early morning arrival in the UK, and the efficiency of the limo service, had us at our hotel at 7.00 am, and of course our room would not be ready until at least Noon! We left our baggage at the hotel and set off to explore London. Our hotel was at Gloucester Place, near Marble Arch. It was mid April and it was a beautiful Spring day, so we decided to take a walk. We walked and walked for four hours and what the walk did, in the April sunshine, was help our body clocks to adjust to UK time. The gardens across the road from Buckingham Palace.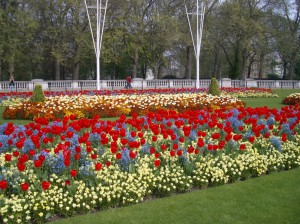 I'd booked the hotel using the internet, Lincoln-house-hotel which was a reasonably new thing to do for me to do – but it worked out well. I checked the various online hotel sites and in the end booked direct with the hotel. Going direct gave me a feeling of security, as I had their confirmation e-mails. I had read of agencies failing to let the hotel know of the impending guest's arrival and the hotel not have a room available for the length of time that the guest required. Lincoln House Hotel was a converted three or more story terraced building. It was an experience as I have never had to use such a small shower – less space than an old fashioned red British telephone box. Fortunately the bed was OK, and the breakfast was good, but best of all it was within my budget considering the exchange rate was nearly three Australian dollars to the pound. One of my interests is Napoleonic history, so while in London we decided to take the Eurostar for a trip to Brussels, stay a couple of nights, and visit the village (now a small town) of Waterloo. This worked well. The return ticket London / Brussels was £59.00. The day we were in Waterloo it was raining heavily – I managed to see around Wellington's headquarters – which was a inn in 1815, but is now a museum. I found it very interesting, as did Maureen, even though she doesn't have the same interest in the Napoleonic times as myself. I didn't manage to see the battlefield due to the heavy rain as I considered it was a long way to go to get muddy feet. What I didn't do, (but should have done) was use the internet to book the UK railway tickets from London to Liverpool. I did communicate with Virgin Rail (they run the direct trains from London to Liverpool) about pre-purchase of tickets. I was told that I had plenty of time to book the ticket (this was mid January 2004, for an April trip), but I failed to grasp the 12 week limit. The booking facility and cheap fares come on line about 12 weeks before departure date. I thought the price of the tickets would stay the same until we booked in person – on arrival in London. Wrong – as each day passed more and more of the cheaper tickets were being sold until they had all gone, and only the last minute more (read very) expensive tickets were left. I did receive a quote from an Australian travel agent for $217 per person single trip and thought that was very expensive. The last time I used British Rail was in 1980 when I did a day trip from Congleton (in Cheshire) to London for five pounds – so I thought the ticket prices would not be all that expensive, allowing for inflation perhaps they would be £18 to £22.00 each (this fitted with the discount internet prices) – wrong, the cheapest ticket on the day that we booked was £51.00 (about $155 AUD at that time) for a single ticket to Liverpool, and we would have to change in Birmingham, unless we paid an additional amount for a through ticket. They say that education is expensive – this experience taught me a lot about planning! Many of the UK railway stations were built in the Victorian era, so on alighting at Birmingham station I had to find out the Liverpool departure platform. Of course the Liverpool platform was on the other side of the railway lines and we would have to cross by using the foot bridge. They didn't have an escalator, nor could I find a lift – so I had the problem of hauling a suitcase to the top of the stairs and leaving Maureen on guard down below. I left my suitcase at the top and returned to collect the second case, while Maureen carried our hand baggage. At that time people were very aware of abandoned suitcases, (IRA & 11th Sept in New York) so all I needed was some eagle eyed person to bring my 'left' suitcase to the attention of the police. I didn't think anyone would run off with the case as it was too damn heavy to run more than a couple of paces. Eventually we had all of our luggage on the correct platform – level ground was not a problem as the suitcases had mini-wheels. In Liverpool we stayed with one of Maureen's bridesmaids – they hadn't seen each other for over thirty years! Of course I had to visit the Maritime Museum at the Albert Dock area and it was during this visit, as I experienced the link between Liverpool and the slave trade that a germ of an idea for a book started to take place in the old grey matter. Ice King is the result of the visit to the Maritime Museum and that idea. As a sixteen year old youth I attended HMS Conway naval college in North Wales, which was in the grounds of the Marquis of Anglesey's home Plas Newydd and the one person I wanted to show Plas Newydd to, was Maureen. My mother came from Caernarvon (now spelt Caernarfon) so we decided to stay in Caernarvon during our North Wales visit. I chose the Black Boy Inn, which offered rooms above the bar. As a seventeen year in 1961, I once visited the Black Boy pub for a pint of beer and promised myself that one day I would return and book a room. The time had come to keep my promise. We hired a car in Liverpool and drove to North Wales. It had been over forty years since I visited Caernarvon, but I was still able find the Black Boy A very un PC name in today's world, but as the pub was built around 1522 perhaps they have the right to retain the name. There are three thoughts on the origin of the name – it was named after a black boy who arrived in Caernarvon off a ship, stayed and married a local girl. Another is that it was named after a black buoy in the harbour, and finally that it is named after Charles II, black boy was his nick name given to him by his mother, and the Royalists, at the time, would meet at the inn. We arrived on a very warm day and booked in to the pub. The reception was on the ground floor near the bar. The building was too old for a lift and the upstairs area was a rabbit warren of corridors and small stairs to another level etc. Very quaint, with a real feel of history, but I had to watch my head as the ceiling was quite low in certain areas. It was my job to lug the suitcases one at a time up the stairs, down old corridors and up another set of small stairs to our room. The young Welsh lady who showed us our room opened the bedroom door with a flourish and we entered – the room was very hot. I opened the window and asked if the heating could be turned off or down. In her sing song Welsh voice she told me that as it was only Spring the heating would not be turned off until the end of May. Today was the 5th May ! I mentioned that we would be forced to leave the window open and all her money spent on heating would be wasted. She was not going to budge from the fact that it was Spring and the heating stayed on until the end of May! The trip down memory lane at Plas Newydd was just great. I had to show Maureen Rex Whistler's mural, which is 58 feet long During my time at Conway the cadets were asked if they would like to see the mural and it would cost 6d (six old pence, about 2.5 new pence). I 'invested' my six pence and was escorted to the mural with a number of other cadets. The mural and the explanation blew me away and the image remained with me for the next forty years. I'd never seen such a striking painting. Maureen and I returned to Plas Newydd in 2008 with three other couples, all from Sydney, and a visit to see this mural was a must – but more on that trip later. About a mile and a half away from Plas Newydd is llanfairpwllgwyngyllgogerychwyrndrobwllllantysiliogogogochuchaf - after two years at Conway I was able to pronounce this name, but I did have a lot of help from my mother, who was bilingual in Welsh & English. As both Maureen and I spent a lot of time in North Wales as children the visit brought back many happy memories. From Caernarvon we drove over the Snowdonia mountains to Shropshire to visit a cousin of Maureen's. After a couple of days we moved on to Congleton, the town that we left to emigrate to Australia. What memories after 24 years. Our original next door neighbour, who we'd kept in touch with, via Christmas cards, invited us to stay with her for a couple of days. Seeing our old house from next door's position and the familiar views across the Dane valley was two days of 'remember when.' Plenty of photographs were taken to show our children, who were born in Congleton, and started life in the house next door. The old country pubs in Congleton and on the outskirts brought back Sunday lunches of old. Congleton is about 750 years old and when we lived there the population was about 20,000. It is famous for selling the town bible to buy a dancing bear in the middle ages. They even wrote a song about the purchase and the town was given the nickname 'Beartown'. From Congleton we made our way to Wilmslow, which is south of Manchester, near Manchester Airport. Stayed a couple of nights at Rylands Farm. A beautiful place for a quiet few days. I found the farm via the internet and it was very easy to book with the owner who lives on site. The closeness of Manchester Airport was not a problem as the aircraft never bothered us. We left the car at Manchester Airport and caught the airport train in to the city, for the intercity train to Edinburgh. I'd only ever been to Edinburgh once, which was during my time at sea when we docked at Grangemouth. Again I used the internet to book a bed and breakfast at Kariba Guest House.  The rooms were comfortable and the breakfast was good. As we were leaving very early on departure day (about 5.30 am) the hotel delivered breakfast trays to our room so we wouldn't leave feeling hungry. We didn't ask for this service, but once the owner found out our departure time she fixed the breakfast tray, as well as arranging for a reliable taxi service, who would not be late! The breakfast trays were a very nice touch to end our UK holiday. I had about 11,000 frequent flyer points with Air New Zealand and they were in partnership with British Midland (BMI), which meant that I could purchase tickets from Edinburgh to London by using the points. Air New Zealand would only allow me to use the points for a round trip ticket i.e EDI / LHR / EDI but I only wanted a single EDI / LHR. They wouldn't come to the party, so it cost me every last point plus a few quid to buy two tickets EDI / LHR. If nothing else it got rid of the points with Air NZ, who, after buying Ansett, managed to help that airline go bust, which cost me 45,000 Ansett points – so guess which airline I no longer use . . ? For our journey home we'd booked on the lunchtime Malaysian Airlines flight from London to Kuala Lumpur, which arrived the following morning at 7.30 am. We used the KLIA Ekspres Train to get to the city, 28 minutes for the 90 km (160 km per hour) and then a taxi to the Renaissance Hotel. I had cashed in all my Amex points and added $24 which gave us three nights bed and breakfast at this hotel. It was a great deal as far as I was concerned.  As we arrived a large doorman, in traditional Malay dress, opened the double glass doors and wished us good morning – we were sold on the place!  Reservation allocated a very nice room for us on the 14th floor. The hotel is a five minute walk to the overhead mono rail, so that afternoon we went to Petaling Street for the markets. The monorail is very efficient and cheap. From memory I think the fare was about 30 cents for a ten to twelve minute ride. As soon as we landed in Kuala Lumpur one could smell the tropics and Kipling's quote came to mind. For me the smell brought back Asia of the early 60′s, the heat and humidity, the constant hum of the insects and the background noise of the local people. We felt at home! The Renaissance breakfasts were just out of this world. The choice was huge and that's where we tried our first chilli omelette, which is now a firm favourite at home. The pool was non-standard with a bar, which could be used from the water or from the land side. Each evening they had happy hour, buy one get the next free – worked very well for me. The pool opened at 6.00 am so an early morning swim was very pleasant as it was still dark, and as the sun started to rise the call to prayer wafted across the city.
The three nights passed all too quickly and then we were on our way home to Sydney.
Once again a chauffeur driven limo (a normal size vehicle this time) met us at the airport to take us home.
We were away for 29 days, and arrived home on the 19th May, 2004.
Our friend died in hospital on the 26th May, 2004.