'Marvellously engrossing, set against Woodland's meticulous backdrop of the end of the Liverpool slave trade, a salty tale of adventure, romance and ingenuity that will have every reader cheering from the margins.' – Tom Flood
Welcome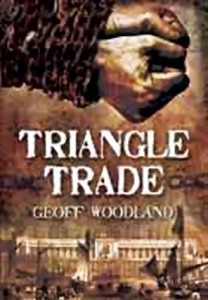 Welcome to my web site, I hope you enjoy your visit, and I look forward to any comments or suggestions that you may have – so feel free to get involved.
Here is a link to a free sample chapter of my book: Free Sample Chapter
All of us are honed by our experiences, from childhood through to pensionable age. In my early teens I attended a school that released us, after our fifteenth birthday, to find a job or an apprenticeship. Many of my contemporaries found good apprenticeships and jobs in the local shipyard, soap factory and some followed their father to work on the docks, as a 'docker' (stevedore).
I'd been told that the world was my oyster, but I didn't want to work in a ship yard, a soap factory or as a docker.
My problem was that I didn't know what I wanted to do with my life; but who does at fifteen years of age?
If you wish to know what I decided to do just click on the my Blog.
To buy Triangle Trade click here Pen and Sword or Book Depository . You may find it easier to search for Geoff Woodland due to the number of titles that contain the words 'Triangle' & 'Trade'.
Reviews and comments
…………………………………………………………………………………………………………………………………………………………….
William's father, George King, has built a moderately successful shipping business but when he declines William's request to captain one of his ships William leaves and joins the Navy. While he is at sea George King is lured into the slave trading business which is highly profitable. When William returns and hears of his father's exploits he is determined to show him that a profit can be made in the shipping industry without human suffering.
Ice King, also known as Triangle Trade, is a rollicking tale of trade on the high seas during the early nineteenth century.
I was immediately drawn into the world of William King. William was a gentleman in a time when it was ok for men to be harsh and crude. It was good to see the stark contrast in character of siblings Henry and Charlotte Nicholson to that of William King and Ruth Judson. Woodland gives you characters to despise and characters to root for.
This story is full of adventure, family, humour, friendship, rivalries a few sword fights and a breath holding duel to the death.Author 
I would recommend Ice King (Triangle Trade) to anyone who enjoys a good historical adventure.
– Veronica, Australia – Feb 2015
………………………………………………………………………………………………………………………………………………………………………….
UK February 2015
………………………………………………………………………………………………………………………………………………………………………………..
Geoff Woodland utilizes a likeable style that serves his storytelling quite well. A novel about the conflicts surrounding the slave trade in the early nineteenth century offers wide appeal.What lover of historical fiction or humanity could resist this opportunity to be submerged in a meaningful tale made rich by issues of human drama, touches of humour, brilliantly executed action scenes,conflicts and romance between complex, breathing characters? I readily sympathized and connected with the main character William King. His experience on the Spanish Slaver that catapulted him to his anti-slaving position had me riveted to the pages. I thoroughly enjoyed my read of Triangle Trade.
John B. Campbell
USA Jan 2015
……………………………………………………………………………………………………….
Well written book, it keeps you wanting to know how things will turn out. Which is what a good author should be able to do. The way it was written put images in my head of the way things were in1800, the whole way of life. It could have been a bit darker but I enjoyed it anyway.I hope the author has thoughts of a 2nd book where the families cross swords again!!!!!!!!
Excellent read
P.G.Gregory
UK Jan 2015
…………………………………………………………………………………………………………
Brought to life old Liverpool. Reminded me of Hornblower, there is definitely another book to be written.
This book has been published under another title called Triangle Trade, this is more expensive, but the same book.
…………………………………………………………………………………………………………..
Nick,
Brilliant yarn, It took time between moments of work, but I enjoyed it immensely Geoff
I am going to read the next adventure and am sure it will be as good.
UK 2014
………………………………………………………………………………………………………….
Not the sort of novel I read, but was going to meet the author at a reunion so thought I would give it a try. It had a bit of every genre in it – history/intrigue/crime. Couldn't put it down. 
……………………………………………………………………………………………………………..
I really enjoyed this book . It`s a cracking good story and moves along at a decent pace . It usually takes a while for me to get through a novel but I couldn't put this book down. I hope Geoff Woodland writes the sequel soon. I shall certainly be first in line in the book store for a copy. Still don`t take my word for it dash out and purchase a copy . If you like historical novels with adventure , love and conflicting morals then the Triangle Trade is for you .
—Geoffrey L. Woodland – Bristol, UK. December 2012.
We are not related, and we do not know each other, pure coincidence and a surprise to me —Geoff Woodland, author of Triangle Trade.
………………………………………………………………………………………………………….
Triangle Trade is a thoroughly enjoyable historical novel. It includes interesting, well-drawn characters and plenty of action, romance and authentic early nineteenth century detail.
—Lee H.  Cleveland, Ohio,  December  2012
………………………………………………………………………………………………………….
Probably the longest book I have read in a while, but it felt as though it was finished too quickly. I would get up early for work just so that I could get on the train sooner to read this book. I sat at my desk eating and reading and I sat with the family reading this book instead of socializing. The thing is, yes this book was addictive but I am unsure as to why. The story was clever and original and yet it was slightly predictable. The characters were varied and interesting but I never felt like I knew any of them personally or that they related to me directly.
However, in saying that, maybe it was the whole package. There is history, action, romance, betrayal and success. I suppose there is not much more you would want from a story?
Another historical fiction, set in Liverpool during the final few years before the abolition of the 'African Trade' (which occurred in 1807) within the British Empire. The main characters are a Father and Son, the Father caught up in the 'African Trade' and the Son working hard to put an end to it.
Highly recommend…and I have just realised what I could not put my finger on before. This is a man's book! The story is of the navy and shipping, booze and women, even the front cover has a masculine attraction. Now I understand why I enjoyed the book but still had my breath at the end of it.
—Erin – Essex, UK – September 2012
………………………………………………………………………………………………………….
I love to read, and this book did not disappoint. I thought it was well written and well edited and historically believable. The characters were real and believable, and the plot kept me in suspense. A great. quick read. This book is why I love my Kindle Fire !!. Money well spent.
—TDub – Location unknown,  September 2012
………………………………………………………………………………………………………….
Imaginative story, holds attention throughout, clever plotting, well written – altogether a "good read" about goodies, baddies, wicked women; brainy angels, bold mariners, and Georgian merchant shipping.
—Geoffrey H. Poole. UK , Sept 2012
………………………………………………………………………………………………………….
I have always loved sailing ships and tales of adventure on the high seas. Triangle Trade will always be one of the best for me. When I began reading this book, I felt as if I had settled in with a tale that was truly written in the early 1800s — the author's prose and style has the feeling of the long-ago literary greats. Well-drawn characters and a compelling plot make this book difficult to put down.
—Read this book — it is a wonderful tale!
Kathy V – New Mexico,  September 2012
………………………………………………………………………………………………………….
I wanted to contact you was to say what a fabulous book I have just this minute finished (Triangle Trade). This was very well researched and as soon as I started reading was unable to put it down. Very exciting- but what happened to William, did he marry Ruth and what happened to his father, did he join him in Boston?
Many congratulations and I look forward to your next book, which I will definitely buy. Excellent.
—Rick F. – Hereford, UK. August 2012
………………………………………………………………………………………………………….
A very entertaining, well researched, story about Liverpool during the slave trade. a must read for anybody who enjoys reading books about sailing ships, and the trading families that built the early shipping lines.
—Tony C. – East Sussex, United Kingdom,  July 2012
………………………………………………………………………………………………………….
I suppose not too many people these days are well informed about the evil slave trade. I had an advantage in that respect because one of my mother's heroes was William Wilberforce, the English politician who toiled so long and hard to have it, or England's massive involvement in it, outlawed.
So, once I had heard about Triangle Trade, Geoff Woodland's book in which the trade is ever-present, even if sometimes only in the background, it was natural that I should select it to read. Added influences in that decision were that Mr Woodland, who I do not know, hails from Liverpool (a city built on the slave trade and now sporting a museum to inform you of that), not too far from my own origins in Blackpool, he is of the same generation as myself, and we share a common background as seafarers.
So what did I find? A story of a young seaman, a lieutentant in the Royal Navy, who is put on half-pay – ie put out to grass – as part of the "peace dividend" after the French navy is largely destroyed at the Battle of Trafalgar – a peace dividend which applied only to the Navy because Napoleon's army was still in its prime (a fact which enabled one of his drum majors to build the house in which I now reside).
So he becomes a captain in what we would now call the Merchant Navy at about the same time that he returns home to Liverpool to find that his father has immersed the family shipping company in the disgusting slave trade.
He is advised that it is impossible to run a shipping company these days without "The Trade" but, having met and been enlightened by some of Wilberforce's followers, he sets about, with his own ship, proving that an honest living and a bright future can be enjoyed without destroying the lives of innocent Africans.
The title of the book puzzled me but the reasons for it become very clear along the way.
Mr Woodland writes well and has succeeded in writing a book which is informative about this important part of history, in addition to showing how life was at sea in those days and how the world, and trade around the world, was opening up.
He weaves in a story or two about romance, throws in some very believable characters, and generally gives us a very entertaining read.
I found an added bonus in the information given about the development of Boston and its hinterland – an area where one of my daughters has now been living for almost 3 years.
The book comes to a satisfying and logical end but I have a feeling it is the beginning of a series about William King.
—Vic H. – Pyrenean Foothills, France,  July 2012
………………………………………………………………………………………………………….
Great to read a little about Slavery's place in the wealth of a nation. The impoverished, colonized, and virtually enslaved Irish were among the first into British Slavery, and that is hinted at here as well.
—Jim – location unknown,  June 2012
………………………………………………………………………………………………………….
Just finished your book. An excellent read.
Let me know when you finish the next one!
—Paul W. – Malta, June 2012
………………………………………………………………………………………………………….
Triangle Trade is an excellent book, particularly interesting to everyone with an interest in the sea and seafaring in general. The author, Geoff Woodland, obviously has an intermit knowledge on the sea and a gift for telling a good story. I look forward reading many more of his books.
—Janet. – Park Ridge. NJ. USA. May 2012
………………………………………………………………………………………………………….
If you want a book that you can't put down, then this is the one for you. If you enjoy historical novels, then this is set in the early 1800s in Liverpool and the West Indies, it tells the story of the Slave Trade at that time and a Shipping Family, the Kings, whose son skippers a boat that is against this horrible trade. Geoff Woodland is clearly an Author that is going places and I can't wait for the follow up to Triangle Trade.
—Mike S. – Edinburgh, Scotland, April 2012
………………………………………………………………………………………………………….
Triangle Trade is the story of an ambitious young ship's captain at the turn of the 19th century in England, who is determined to succeed on his own terms. Appalled by the inhumanity of the slave trade, he vows to prove one can still turn a profit by trading in goods that were not produced by slaves. Ice is the unlikely commodity that launches his career.
The novel rings with such surprising authenticity of life at sea, England's naval conflict with Spain, and the cruelty of the slave trade that readers will constantly find themselves checking the publishing date to make sure this was really written by someone in the present. The author, Geoff Woodland, weaves a rich and colourful tapestry of life in 19th century England, transporting readers into the middle of exciting adventures on the high seas and the coastal towns of England and The Americas. There's romance, intrigue, mystery, action, a social conscience — and even an education!
The writing is crisp and moves the plot along at a fast clip, with a complex set of characters and plot lines skilfully propelling the action to a satisfying and surprising conclusion. Triangle Trade is a great read, well deserving of a hearty "aye, aye," and a five star rating.
—Bookemdano – New York, USA. February 2012
………………………………………………………………………………………………………….
This review is from Barnes and Noble's web site.
A salty story of sailing ships and the turning of the slave trade out of Liverpool in the 1700s. Woodland has created a new hero to straddle the poop-deck next to Hornblower. True love, false love, a father and son at odds, a quest for an anti-slavery trade, and an evil and grasping pair of villains, also father and son, sets this big story fair and square in the cracking good tale category. The wind that lifts it further is Woodland's meticulous research and clear, evocative prose. The whole idea is so original and captivating I'll be looking out for the sequel.
wordscourge December 17, 2011
………………………………………………………………………………………………………….
Author Geoff Woodland utilizes a likeable style that serves his storytelling quite well. A novel about the conflicts surrounding the slave trade in the early nineteenth century offers wide appeal. What lover of historical fiction or humanity could resist this opportunity to be submerged in a meaningful tale made rich by issues of human drama, touches of humour, brilliantly executed action scenes, conflicts and romance between complex, breathing characters? I readily sympathized and connected with the main character William King. His experience on the Spanish Slaver that catapulted him to his anti-slaving position had me riveted to the pages. I thoroughly enjoyed my read of Triangle Trade.
—Nigel. F – Wisconsin. Oct 2011
………………………………………………………………………………………………………….
I have just finished this book and thought it was brilliant, the story was fast paced and a real page turner. There is something for everyone in the book, and I would highly recommend it to both male and female readers. Normally once I have finished a book it takes me a while to get into a new one, but with Triangle Trade I was completely hooked from page 1. There is a lot of information and story, but at no time does it feel like you are being overwhelmed by the whole thing. Life at this time was hard for a lot of people and through this book you learn a lot. I really enjoyed getting lost in the story and the events that follow, and it felt like I was standing on the side watching things as they happened, so much so that I even felt like yelling at characters at some points to warn them! All in all I would really recommend this book and it is well worthy of the five stars I have given it.
—Sue – S. Wales – Sept 2011
………………………………………………………………………………………………………….
Triangle Trade was a splendid read and filled a niche in English literature that has long awaited an author with the knowledge and background that Woodland clearly has. There are any number of popular writers who write about the likes of Nelson and the WW 2 period – and very enjoyable they are, but this is the first novel I have read were the hero is 'in trade'. There is action aplenty and romance for those who want it. The book also serves as a reminder of what made this country the powerhouse it once was. It is a book that I would recommend to any of my friends and would feel safe in recommending to my elderly parents.
—James S. – UK – Sept 2011.
………………………………………………………………………………………………………….
With an admirable economy of words Triangle Trade opens by divulging a wealth of information to the reader. The nature of the First Mate is 'shown' by actions – capable, decisive, logical, pragmatic, wise in the ways of the sea – as opposed to the rash, greedy and short–sighted late captain. This enviable ability to produce graphic descriptions, revealing characteristics, both physical and mental, of the players, without patently doing so by direct information dumping, is present and prevalent throughout the work. The marine expertise of the author, in addition to diligent research, is a supporting bulwark for his obvious competence with the written word. The quality of this work isolates it from many others of its genre and I would not hesitate to use the term 'epic' in relation to it. For anyone doubting this, do not take my word; the proof is in the reading. Superlative.
—Robert Davidson. UK – July 2011 – The Tuzla Run www.authorbobdavidson.com
………………………………………………………………………………………………………….
Geoff Woodland has written a very engaging nautical novel. The voyage begins when young naval officer, William King, in his first command, captures a slave ship. The condition of the human cargo and the brutality of the slavers touch William deeply, and his fight against the "peculiar institution" begins.
William is the son of George King, a Liverpool shipping magnate, partnered with the Nicholsons: Donald, the father, and his children, Charlotte and Henry, who all seem to be genetically evil. The company has discovered the human flesh trade is extremely lucrative. However, William is determined to show his father and the Nicholson's money can be made without degrading oneself or others. The Nicholsons don't believe they need any lessons from William and make it their mission to thwart his efforts whenever possible.
The plot moves quickly as William sails to trans-Atlantic ports of call, brought vividly alive in Woodland's detailed prose, demonstrating his extensive historical research and his years at sea. The story races through this period of British history when slavery was an explosive issue and strong, honorable, determined people, like William, risked their lives and fortunes to end "the Trade."
I think a good novel captivates the reader so much she/he thinks about the story and its characters when the covers are closed- The Triangle Trade is such a book.
—Susan Denning NJ. USA- July 2011 – www.nolimitpress.com
………………………………………………………………………………………………………….
Triangle Trade centres around William, heir to a shipping company and navy man, who gets caught up in the anti-slavery movement in Liverpool. He sets out to prove, with the assistance of other opponents of The Trade (as the dealing in slaves is known), that shipping goods may still be profitable without dealing in slaves or the items they produce. I knew very little about slavery in Britain before I read this so it was interesting to see another perspective on the issue.
I was totally immersed in the details of the time, yet never felt as though I was just being fed lengthy descriptions. In addition to the main storyline, there is romance, betrayal, family intrigue and much else to enjoy. It took me a little while to get into it, but within a few chapters the already familiar characters had reeled me in, and I needed to know what would eventuate. I also respected that the storyline was realistic, rather than a glossed-over account of the times, slavery, deaths from infection or injury, the chasm between rich and poor – these are all ugly facts but honest ones.
As I said earlier, it took me a chapter to get into the story, but once I did I was rewarded with a richly detailed world, deep characters and an exciting storyline.
—Kate R – Queensland, Australia Feb 2011. Goodreads member.
………………………………………………………………………………………………………….
Review from the UK  site Cloverhill Book ReviewsRating 5/5
The cover on this is unusual, with a slightly eerie feel to it. I like the font used on the front and inside for the title, it fits the book really well.
Liverpool in 1804 was the largest slave trading port in Great Britain. Triangle Trade shows the discontent, success, wealth and change which the slave trade brought, set against various backdrops from Boston to Cuba and back to Liverpool.
The King family are in the shipping business, George King is close to downfall in his business and must decide what to do next – collapse or join in the profitable slave trade. His son, William is totally against the idea, having experienced a Spanish slave trade boat on his travels. The book tells of greed, turmoil, vindictiveness and the harsh reality of life aboard boats in the 1800s. My favorite character is William. He has solid principles based on facts, and isn't afraid to take his ideas and enterprise on them whilst acting against the slave trade. The tension between him and his father, and later on Charlotte is palpable.
I enjoy reading historical stories, this one was no exception. It's woven really well, and had me turning the pages wanting to know what was going to happen next, all the way through – very engrossing. The adventures that William has made for fantastic reading. As a reader I was swept away into a world where women aren't meant to be the leaders and slaves are seen as the same as cattle. Charlotte, the daughter of a rival boating family, seems pleasant enough at first – appearances aren't all they seem and eventually a poisonous family get what they deserve.
Triangle Trade King is a detailed book, packed with information on how life was likely to have been like on board, including insights into surgery and death on board. It also shows what it must have been like for the family left behind. Thoroughly enjoyable.
—Michelle – UK – Feb 2011
………………………………………………………………………………………………………….
What a rollicking good read . . Your scholarship into 19th century Liverpool was excellent…
A fascinating read, both factually and historically, and great storytelling – can't wait for the sequel!
—Lyndon J. Essex. UK – Feb 2011
………………………………………………………………………………………………………….
What a belter of a story . . .excellent!
Your ability with manners and decorum for the period, as well as how Gents of good standing sorted out their disagreements, was faultless.
Seamanship terminology for the period was spot-on, as was the method of sword fighting in a maritime setting, all cut and slash.
you can be well proud of a well crafted novel,
—Mike M. – Northampton. UK – Feb 2011
…………………………………………………………………………………………………………..
Geoff,
I finished your book in a day and a bit . . . great 'read'.
Congratulations, I really enjoyed it and am looking forward to the sequel.
—George B. Sydney, Australia. Jan 2011
………………………………………………………………………………………………………….
This review is from the Historical Novel Review site
Review by Tracy Falbe
Fancy houses rise in Liverpool, England from the profits of slave trading between Africa and the plantations of the West Indies. Empires fight wars for control of the seas that connect sugar plantations, industrialists, and the brutally exploited human capital of West Africa. Amid this dark and dynamic global business, William King is ready to make a man of himself in 1804. His father George King runs a modestly successful shipping company where William is employed as a first mate. Triangle Trade opens with William telling his father he wants a captaincy. George refuses and William rebelliously accepts a commission with the British Navy.
During a war with Napoleonic France, William serves blockade duty off the French coast and then commands a vessel taking dispatches to South Africa. His many sea voyages both as a merchant and a military officer have exposed him to the horrors of slave transport, and William is morally against it.
After the war, when William is trying to decide his next career move, he becomes involved with abolitionists as he travels to reunite with his father after years of absence. William finds that his father George has become much more successful. George's new partnership with the powerful Liverpool businessman Donald Nicholson has made George wealthy, but the wealth is all derived from the Slave Trade.
Disapproving, William rejects rejoining his father's shipping company and instead captains a ship backed by the abolitionists. His mission is to prove that trans-Atlantic trading can be profitable without transporting slaves or trading in commodities produced by slaves. This challenge and William's seafaring and commercial adventures between Boston, Jamaica, and Cuba drive the majority of the novel.
In his novel Geoff Woodland displays the sweeping scope of his historical research. Details large and small pack every page of Triangle Trade as William calls on ports in Liverpool, Boston, Kingstown, and Havana. Each city is summoned in the imagination with vivid details. The stench of Liverpool sewage and its sooty air are constant. The hot sunny diversity of Kingstown blossoms with fruity tropical abundance while always showing the dark underbelly of its slave culture. The mangrove swamps, fortifications, and warehouses of Havana set the scene for a daring slave rescue. The bustling enthusiasm of Boston illustrates the excitement of the young United States.
Woodland employs this broad global landscape with unflagging competence. No place is glossed over. Every setting is carefully developed. The author writes with concrete uncluttered prose that is never flowery but always evocative, and he handles the economic themes of the seafaring commercial empires with great understanding. The sugar produced in the slave plantations is the sweet vice driving the abominable abuse of human capital. A quote from an abolitionist character in the novel explains the problem:
"It is out of sight and therefore out of mind for many people. They want their sugar, but they do not think of the pain and damage inflicted on their fellow human beings to obtain it at a price they are willing to pay."
Even over two hundred years later this sentiment can be applied to many global commodities, and most people still prefer to not think about it.
Woodland's portrayal of human exploitation is not limited to slavery. He mentions how mills in Manchester, England advertised cheaply in Ireland to lure an over abundance of laborers, many of them women, to England. Some women were then easily diverted into Liverpool brothels.
The dreary realities of economic history are only the bones not the soul of this novel. Powerful emotional forces influence the characters. William has a love interest with the capable and shrewd Ruth, daughter of his Boston business partner Abraham. Their romantic relationship is strong but often challenged by their individual desires to run their own companies. George and William have a complicated father-son relationship. William very much serves as a morally redemptive figure when compared to his slave-trading father, who is easily manipulated by Donald Nicholson. And Donald Nicholson embodies the evils of purely reptilian capitalism that has no regard for anything except profit. The reprehensible nature of Donald is further illuminated by the characters of his son, Henry, and daughter, Charlotte. Both are detestable human beings. Henry constantly hungers for sadistic sex with prostitutes, and Charlotte is so irredeemable that when George strikes her across the face, she firmly deserves it.
Many nice touches enliven this engrossing novel that never has one draggy dull moment. The side characters of William's Chinese steward Sang and Paris, the Kingstown coffee house proprietor, add depth and diversity to the story. And the concept of capitalism is also a central character of this novel that nicely portrays how this economic philosophy has shaped the world. Capitalism is seen in both good and bad lights. The commercial successes William achieves as he follows his moral compass act as an inspiring foil to the winning-is-all worship of the brutal commercial status quo presented by Donald and Henry Nicholson.
Triangle Trade will fill readers' sails with the strong wind of an enlightening historical adventure set on the high seas. The novel presents a tightly written narrative that constantly urged me to read the next page. I was honestly caught up with worry about William until the final paragraph.
—Tracy – California. USA – Nov 2010
………………………………………………………………………………………………………….