If you have the Winter blues in Sydney, it is time to visit Europe
What seemed a simple idea didn't take long before I realised that it was a much bigger job than I first thought. When asked 'Where to next year?' at the end of the last European trip, I thought I'd like to do a spot of self catering and to live like a local, even for a short time. The idea caught on and all of a sudden I had the job of planning and arranging a European trip for two couples – my wife & I and our friends. I do enjoy planning and arranging holidays (after doing it for ten years and I didn't enjoy the planning etc I'd be out of my mind) so I looked on the basic idea as a challenge.
The plan was to fly to Europe and have four nights in Paris, four in Barcelona, four in Madrid and four in Lisbon. Doesn't sound too hard does it, until the idea of making the trip between each place as interesting as possible was suggested – by me! Why didn't I keep my mouth shut.
After investigating various means I decided on the train – a touch of the Orient Express came to mind and hadn't we just finished a great train holiday in the Eastern area of Europe, which we all enjoyed. So it was decided that a train from Paris to Barcelona, followed by another to Madrid and then the real exciting bit would be by night train from Madrid to Lisbon – very Agatha Christie.
Reading The Man in Seat 61 web site gave me plenty of ideas, but the one I liked was to leave Paris on the top deck of a high speed train to Barcelona. The double decker height would allow us to see over the hedge rows to the country side of France and Spain. I read of views of the Pyrenees and the Mediterranean during the six and a half hour journey – that was for my group. Being of a mature age we all like our comfort and private space, so it had to be first class, and as the ticket costs were not too expensive we would book early and save. The gap between the cost of economy to first class tickets for a European train journey is no where near as large as between economy and first class or even business class in the airline industry.
From Barcelona to Madrid would also be first class (if we bought early enough) and from Madrid to Lisbon would be a sleeper compartment for two, with our own en-suit. None of us had experienced a sleeper train, and we had no idea about sleeper en-suits. At the end of our holiday we would fly from Lisbon to the main European exit point to Asia – this depended upon which airline we used to get to Europe.
Then we got to discussing the various airlines, and which was the cheapest entry point from Asia in to Europe. Traditionally, being ex Poms, we would have flown in to London, but the British Government had increased their landing taxes for inter-continental flights and it was cheaper to land in mainland Europe and 'train it' to London. We'd experienced this in 2012 when the difference in fares allowed us to stay over night in Paris, and still have change left over after using the Eurostar to London – but that is another story (see 2012 September).
Once again we booked with Malaysian Airlines because of the ease of transit in Kuala Lumpur and the overall efficiency of the airport.
We decided the leave Australia on Saturday the 16th August on the 7.20 am flight, which would have us in KL for 2.15 pm local time. This would allow us a pleasant over night stop before catching the Air Asia flight at 10.30 am to Colombo, which is the cheapest jumping off point for Europe if one is buying a business class ticket. Because we had two previous experiences (2012 & 13) we had the procedure worked out to our advantage. We like daylight flights, sleeping in a real bed, and flying business class at an affordable rate.
All I had to do was make it all work.
I picked a time table that would allow some 'movement' to fit with stops and airlines, but the first actual bookings had to be the self catering accommodation in Paris, Barcelona, Madrid & Lisbon. We wished to travel in August / September, which is the height of the European summer tourist season and I didn't want to book the airline tickets before I was sure of our accommodation dates.
Using Trip Advisor as a guide I checked out a number of self catering accommodations in each of our desired cities and culled them down to one apartment in each, with a back up just in case. Fortunately I was able to book our first choice in each city. We wanted a decent size apartment so that we were not tripping over each other, close to all amenities, two  double bedrooms, each bedroom en-suit, and at a price that didn't break the bank. Not much to ask was it  . . . .  ?
I ended up dealing with four different agencies – one for each city – I had hoped to deal with perhaps one or two agencies for all four apartments, but this didn't work out. All of the agencies I contacted replied overnight with full details of rates, security deposits, and descriptions of the accommodation, and what was expected of us. I didn't have a problem communicating with any agency, because they all replied in English. I contacted two or three agencies in each city to make sure we received the best deal. Of course each apartment had to be seen and agreed with our friends so there were virtual daily e-mails from me to the other couple. Fortunately they trust me, and they agreed to most of my suggestions, which made my job easier.
Now that I had an outline of dates in Europe, I could build on the remainder of the holiday. Malaysian Airlines flights were booked Sydney / Kuala Lumpur / Sydney. As I mentioned earlier we picked the early morning flight from Sydney so as to have a pleasant evening in KL and a restful night.
For the flight to Colombo in Sri Lanka, we decided on Air Asia. The price was right (cheaper than Malaysian Airlines & Sri Lanka Airlines) and the departure time suited us to and from Colombo. We booked our seats and our small meal – both are extra to the actual ticket cost, but the overall price was still cheaper than the two national carriers. Our departure time would be 10.05 am, which would allow us time for a leisurely breakfast, and plenty of time to get to the airport to lodge our checked bags. We would have already checked in for the flight in Sydney, via the internet, because we knew our seat numbers and Air Asia allows check-in some time in advance of the flight.
Our ETA Colombo would be 10.55 am local time (we fly back in time two and a half hours), and we should arrive at our beachside hotel, for our overnight stay, just in time for lunch. The hotel is about twenty minute drive from the airport. Our plan is for a relaxing afternoon of swimming, reading and a quiet dinner, because our bodies will still be on Sydney time, which is four and a half hours ahead of Colombo local time.
Early rise for our 9.30 am departure of Qatar Airlines business class flight to Europe. Our early departure from the hotel will cause us to miss breakfast, so we plan to have breakfast in the business class lounge at the airport. Of course when I booked the hotel, I only booked two rooms, I did not book breakfast – a small saving but still a saving.
This what happened . . . .
Early start with a 5.00 am pick from home. Being Saturday we had a good run to the airport.
Check-in went smooth and I learned something new, although I suppose in the back of my mind it was something that I'd always known. When checking in, the check-in person asked me for our next flight sector and I misunderstood and told him and replied that we were not flying Malaysian Airline on the next sector. He told me that he knew that, but wanted to check our travel itinerary. I asked if it was on the screen and he said it was – so I told him, and he ticked off each airline and sector. We had tickets for five airlines, which added to twelve sectors overall. Perhaps it was all due to security, but then it could be that the airlines that we had chosen were in the same frequent flyer group.
The flight confirmed that MH (code for Malaysian Airlines) service level had fallen to a new low. I realise that it was an early take off (schedule was 7.20 am, but we were a good half hour late), but asking everyone to close the blinds around 10.30 am local Australia, by a rude stewardess soured the flight.  MH had served a meal, which was a lunchtime meal of beef stew and potatoes, with the choice of wines, around 9.30 am, after which the cleared every thing quite quickly and the turned down the lights. By doing this they had created a nighttime flight when it was fully daylight. The whole point of us flying on the early morning flight is because we do not like flying at night When my wife objected to closing our blind the staff member said others wished to sleep, but most, if not all of the passengers, had been in bed a few hours earlier, because Sydney has a curfew and nothing would have landed before 6.00 am. Sydney is mainly a terminating service airport, the passengers would have originated in Sydney, so the excuse was a con to help some of the cabin crew sleep, which is what we found later, certain cabin crew wrapped in blankets. Is it any wonder that MH is in trouble, without the help of the loss of two of their aircraft through no fault of their own?
I would have expected the cabin crew to have bent over backwards considering the public loss of confidence in the their airline.
We arrived in KL a little late but we were soon through immigration and customs to be met by the driver of an eight seater mini-bus that we had arranged. From experience I no longer book a vehicle for four people because of our suitcases and hand baggage, so the eight-seater was just right for the run in to the city. The drive can take around an hour and it was exactly an hour later that we pulled in to the forecourt of the Pullman hotel KL. The hotel (part of Accor Group) is only ten months old and we had obtained a very good rate of around $115 for the night, which included breakfast and Executive Floor facilities.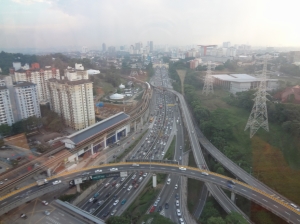 On arrival we were shown to the Executive Floor, where we were offered a cold drinks during the checked-in procedure.
Our room was large and spotlessly clean, as was the bathroom with the powerful rainwater shower.
The view from our windows (left photo) on the 26th floor was of the city.
My only overall negative comment would be that staff is still finding their feet and the command of English of some of the 'front office' staff could be better.
A specific negative comment would be that the Executive floor only offered three bottles of white wine for about twenty guests. The supply of clean glasses must improve as guests where hanging around waiting, while staff disappeared to obtain more glasses. The supply of red wine was much better.
It occurred to my friends and I, that the receptionist who was helping out in the lounge heard our conversation during check-in that this hotel was the sixth Pullman that we had used in the past few years. After people had complained about the lack the lack of white wine, it was noticed that she was very helpful in making sure that our glass were topped up – with red wine, even though we preferred white wine. Can't help but admire her attempt at fixing a problem out of her control.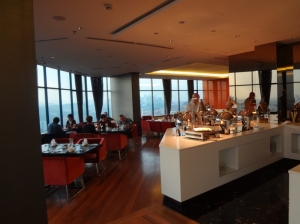 Executive lounge
The following morning we planned an early breakfast because we were due to be transported to the airport at 6.45 am. We tried the Executive Lounge door at 5.55 am – we had been told that breakfast was served from 6.00 am. The Executive Lounge door was locked and we could see the food containers laid out on the counter. We waited the few minuets and dead on 6.00 am a very flustered staff member appeared and opened the door. At other Pullman hotels the Executive floor is always unlocked.
Our transport was waiting for us at 6.40 am, I love it when a supplier is early, or goes beyond my expectation. Due to the hour and that it was Sunday we were able to be at the airport in 45 minutes, instead of the normal hour.
I have used www.journeymalaysia.com/ a number of time for our ground transport requirements in KL, and always found them easy to deal with and helpful.
This was our first visit to the new KLIA2 terminal, but our third time of using Air Asia, and we found the terminal an easy place to navigate. I had checked us in on line and all we had to do was drop our bags – along with hundreds of others who had checked in on line and were trying to drop their bags. To be fair the line moved reasonably quickly – it took us thirty minutes from joining the queue to lodging our bags. They had a number of lodgement stations, which covered all flights, and staff was always friendly and helpful. One poor agent called the next in line and had 18 family members descend on his counter, with one person waving a wad of passports. Eventually Air Asia sent help to break the backlog at this counter and split the family over four counters.
The flight was uneventful, but very pleasant. The cabin staff couldn't do enough for the passengers, and were very friendly, they smiled a lot, seemed to enjoy their job, and found to time to say a few words with anyone who spoke to them. I couldn't help but compare them to Malaysian Airlines the previous day. The experience was as different as chalk and cheese. I did notice that the passengers created their own 'buzz' because Air Asia do not offer video on demand, so people had to talk to each other or just read a book. Perhaps this passenger interaction helps the cabin crew enjoy their job, because they don't have to constantly compete with the entertainment system to gain the passengers' attention.
We were met at Colombo airport by a meet & greet person with his driver and mini-van. I used the same company that we had used in 2006 and received the same high standard of service this time as we did previously. www.donvoyages.com/ This Company will tailor your holiday to your own requirements. Couldn't fault them at all.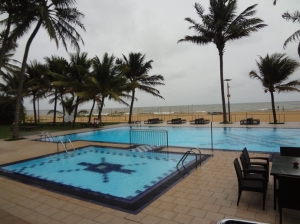 The trip to the hotel on the beach was only twenty minutes, so it wasn't long before we settled in to another overnight stay. Even though it was cloudy it was quite warm and the breeze from the ocean was pleasant. At the bottom of the hotel garden we stepped on to orange to red large grain sand. The beach was clean and the sound of the waves while standing at the waters edge never fails to make me dream of writing, travel and far away places just over the horizon. The smell of the ocean brought back memories of my time at sea in another life.
Camelot Hotel pool and beach scene.
Our room was decent size with air conditioning, and a large ceiling fan. Everything was fine, if not as well appointed as some international hotels, but all we wanted was a clean hotel on a beach near the airport at the right price. The Camelot Hotel fitted our requirements. We were able to sit in the open-air bar, chat and have a relaxing drink, what more would you want when on holiday?
Checking out was an experience. Our transport was booked for 6.30 am, so we arrived at reception at 6.15 am to check out. The staff member on duty started to make phone calls as he prepared our bill. It turned out that he could issue the invoice, but not accept our money! After several phone calls he was able to find the cashier, have him return to his office so that my friend and I could pay the hotel.
Our transport arrived dead on time at 6.30 am, so the reception staff member was told that we were leaving and to Post the bill to my home address, a record of which they had, because were not going to miss our flight due to a missing cashier. A final phone call and a few shouted words produced the cashier. I don't think the hotel was large enough to have back office staff on duty at night, and the front office staff were not allowed to handle cash.
Check in at the airport was the normal efficiency of Qatar Airlines and we had our business class boarding tickets and an invitation to the club lounge.
The lounge was OK, but not nearly as good as the Qatar lounge in Doha. I asked for milk with cornflakes and the attendant looked at me in surprise as if she'd never heard of such a thing, and then asked if I wanted hot milk. All the hot food looked very nice, but none of the containers had the lids secured in a very strong air conditioning area. The others in my group had some of the 'hot' food and they all left it, because the food was either cold or just warm. None of us wished to risk an upset stomach before the long flight to Europe.
The aircraft was an AB300/ 200 series with a limited number of business class seats, about 16 seats in all. I do like flying with Qatar business class, because they have managed to get it RIGHT! So is it any wonder they have won business class awards for some many years and the judges are users of the service, not some corporate outfit.
We transited Doha for just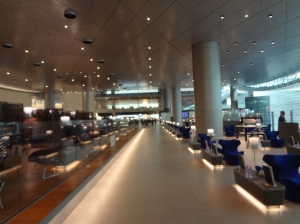 over an hour and had the chance to see the new airport, which opened earlier this year. I have no idea of the cost considering the airport is next door to the 'old' one, which I couldn't fault. The new one is huge and very modern and futuristic in its design and the lounge is  . . . .words fail me.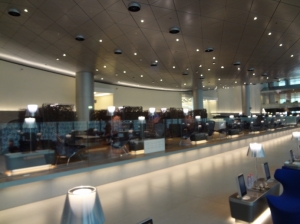 The B787 Dreamliner, destined for Frankfurt that afternoon beckoned, so we boarded our favourite airliner. My only complaint about the trip to Frankfurt was that it was not long enough! When you can lookout of the bathroom window and see the mountains of Turkey, and watch the clouds forming and breaking you realise how small we all are, even with our technology.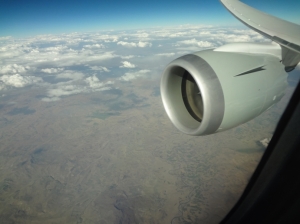 Our arrival in Frankfurt was a little late and the distance that we travelled from landing to the terminal was about fifteen to twenty minutes. I never realised that Frankfurt Airport was so large. We were through immigration and customs within ten minutes, and this included collecting our checked baggage!
Oh! If only Sydney airport could be as fast, considering their lower traffic levels compared to Frankfurt. Our two friends travelled on Australian passports, and my wife & I on our British passport (we have dual nationality, and when in Europe we use our British passport, being a member of the EEC). I mention this to show that regardless of passport the speed of clearance did not depend upon nationality.
The Ibis hotel, www.ibis.com/gb/hotel-2203-ibis-frankfurt-airport/index.shtml# close to Frankfurt airport, was our chosen hotel for the overnight stop. We'd cashed in Accor points for Euro 40.00 voucher towards the cost, and the balance paid by credit card. The Ibis is an inexpensive and cheerful hotel, with clean rooms, hot showers, a good breakfast and an efficient free transport to / from the airport.
The driver from the airport to the hotel was pleasant, friendly and helpful with our suitcases. The following morning's driver (different drive than yesterday's) was chatty enough and kept dropping hints about tipping etc. I asked for terminal two, because we were booked on KLM to Norwich via Amsterdam. At terminal one we were told that he doesn't go to terminal two, and pulled our bags off the coach. He then asked my friend for a tip! He did receive a very good tip – to be kind to his mother!
Fortunately we had booked the early transport from the hotel because the walk from terminal one to the mono train to take us to terminal two was quite a hike. We eventually arrived at the check-in counter and joined a very large queue.
After about twenty minutes, which resulted in a forward movement of about ten feet, we were greeted by a customer service person who checked our ticket and told us to go to a computer, and check -in, because the queue was only for lodging baggage! After completing the procedure, which traditionally used to be an airline service, we rejoined the queue for another 45 minutes, during which time we saw a number of people turned away from the single baggage lodgement counter, because they had missed their flight!
They had missed it because the single acceptance counter couldn't cope with the volume of traffic. The self-check in system might save the airline money, but foreigners don't stand a chance, particularly Asian travellers  who may not have a great command on English, never mind Dutch. We ended up helping a Chinese family who had the same problem as our selves; queuing and then being told to check in via the computer, after which they then had to rejoin the baggage drop queue.
The KLM flight to Amsterdam was very smooth & pleasant. The only hic-cup was the transit time allowed for us to make the connecting flight to Norwich. I am glad we did not require a wheel chair, because we had to make a very fast walk to reach the new departure gate. Within minutes of our arrival the flight was called to board the bus to take us to the aircraft. The flight to Norwich was very short at about thirty minutes.
On our arrival in Norwich we quickly passed through immigration and customs. We then attempted to obtain some British pound from an ATM. It was not a bank ATM, but a building society come saving society ATM, and it rejected our Australian bankcard. Fortunately we were at least able to change Australian dollars at the airport so that we would be able to pay for our taxi. Later we found a 'real' bank in Norwich, where we were able to obtain British pounds via their ATM.
I'd booked us in to a B & B very close to the city centre, so that walking in to town would be easy, and did not require transport. Norwich is a pleasant town, and small enough that we were able to cover most of the interesting places on foot. As usual my only complaint when visiting the UK is the evening meal at a reasonable price. Why do most pubs offer so many fried dishes? It appears that they are incapable of offering decent salad dishes, even though it was the middle of summer. We did find one pub called Trafford Arms, which did try and offer healthier meals than pie and chips, battered fish and chips, hamburger and chips etc. Plus of course they served some very good beers.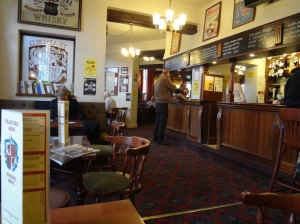 Trafford Arms –
good beer & good food – each evening the food was a different theme.
I couldn't fault our accommodation – a good size room, everywhere spotless, largish bathroom with good shower (no bath – which suited us), great breakfasts – eggs cooked to order as were all the trimmings of local sausages, local unsmoked bacon, home made (by the owners) jams and marmalade and home made (again by the owners) natural yoghurt. The amount of food offered at breakfast made sure that lunch was a very light affair.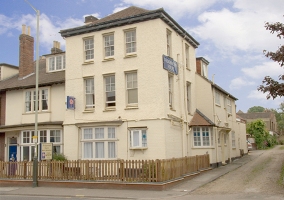 www.wedgewoodhouse.co.uk/
From Norwich I had booked us by train to London, for a one night stop over before catching the Eurostar to Paris. Because the price was 'right' for the ticket from Norwich to London, I decide that it was about time we travelled on a UK train in First Class. When in your seventies there comes a time when the idea that one day you will give first class a 'go' must arrive!
The trip was smooth and the train left on time and arrived on time. I found that it swayed so much that I was unable to do much writing, unlike the trains that we used last year across Europe. Our seats were well worn, but comfortable. Without wishing to be too negative I think the German & Austrian trains are superior in equipment, and overall standard of service offered, than the British train between Norwich & London. We travelled in First Class around Europe last year, so I am comparing like with like.
At least the engine had a nautical feel – Nelson was born in Norfolk and educated in Norwich, so it wasn't surprising that the engine was called Vice-Admiral Lord Nelson.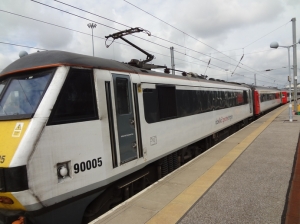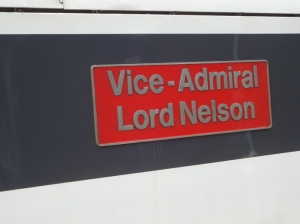 Europe
We decided to self cater for our various stopovers around Europe, so we spent some time checking out rental agencies. The apartment we booked in Paris looked fine on the web site, and we thought it looked very 'Parisian'. On our arrival the 'greeter' who showed us around the apartment; explained how things worked and what to do in an emergency. Unfortunately the apartment was as seen on the website, but in reality it was not what we expected. The main living room had a large damp patch near, and behind a large wardrobe. This damp area gave off the smell of damp paper and plaster. The electric socket, alongside the wardrobe, had a very lose surrounding protective plastic cover so much so that we did not use this socket in case the live electrical elements became exposed. It was quite disappointing. The washing machine was in a cupboard of the bedroom of our friends. . . . . overall not what we expected.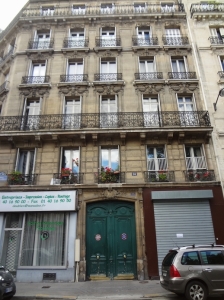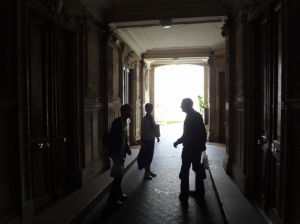 The green doors lead in to a courtyard (very Parisian) and then we had to climb a staircase to the first floor.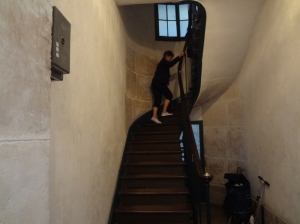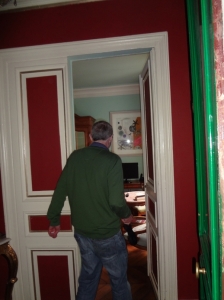 The weather during our Paris stay was colder than expected for August, but the day we did the hop on / hop off bus trip was beautiful, with a clear blue sky and a happy overall feel to the day.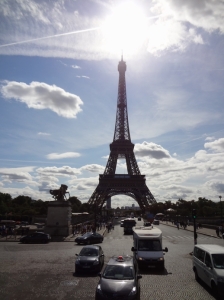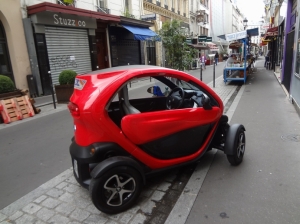 Great parking near our accommodation.
Also, a short walk from the accommodation is the Opera House – well worth a visit and not too expensive.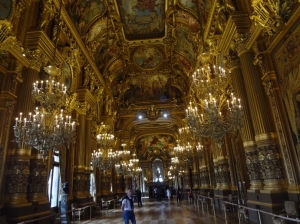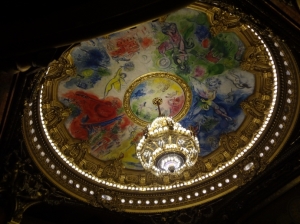 One of the magnificent halls that lead on to the balcony and the famous chandelier, which replaced the first one that fell from the ceiling killing a member of the audience.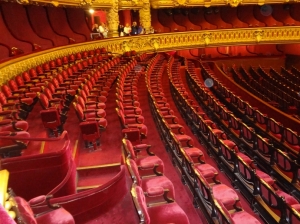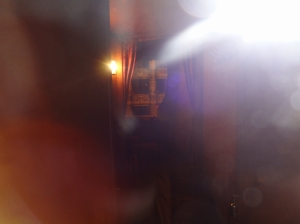 On the left, plush seating for the audience, and my attempt to photograph Box Five (the Phantom's box) through a keyhole.
Overall we found Paris to be expensive, but still a beautiful city, and I managed to visit Shakespeare Book shop, which has always been on my 'bucket' list.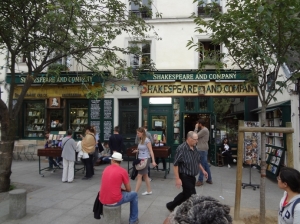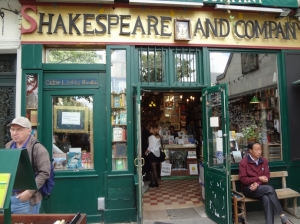 Plus I was able to trawl around riverside second hand book stalls.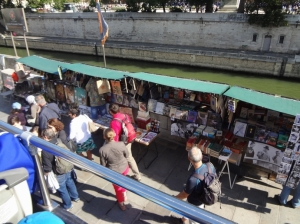 Our taxi had been ordered for 6.00 am on our departure day and it was a pleasure to see it pull up on the stroke of six, for the twenty minute drive to Gare de Lyon. We had decided to use the train to get to get to our next destination, Barcelona, rather than fly. The train being a double decker allowed us to book four seats upstairs around our own table. The extra height, due to double decking, gave us a much better view of the scenery during our trip to our first Spanish city. The transit time was supposed to be about six and a half hours, but due to a problem on the line we were about half an hour late. The delay didn't bother us because we were not due to meet our 'greeter' until 3.00 pm.
The trip was well worth the money because of the views of the Pyrenees and the Mediterranean Sea at the same time as we glided along at over 300 km per hour.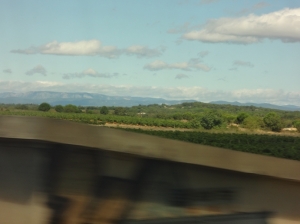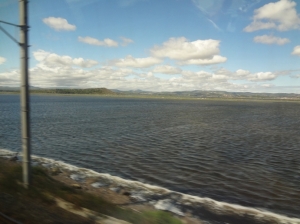 Pyrenees in the distance                                                                             Crossing very low lying ground on the coast
We stopped at Perpignan, 30 km short of the border with Spain, followed by the next stop Figueres Vilafant in Spain, via the 8.3 km Perthus Tunnel. Until recently passengers had to change trains, because the rail gauge in Spain was different than that of France. Fortunately for us, this problem had been fixed in December 2013.
A quick call to our 'greeter' as we left the train and we'd agreed to meet at our accommodation within half an hour. A short taxi ride and we only had a few minutes to wait before our greeter who arrived on a bicycle. It turned out that she worked for the owners of the building, in which our accommodation was located, so she was close at hand if we had a problem.
The apartment was a three-bedded apartment with the master bedroom en suite and the second bedroom next to the main bathroom. The layout was quite 'roomy' and it also had a very large balcony with a table and four chairs for our 'Happy Hour' before dinner. Although we had everything that we wished, from microwave to percolator, the one thing that was missing was a kettle to make a simple cup of tea!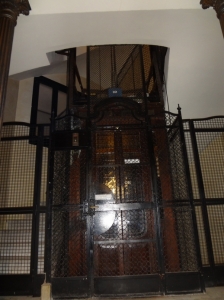 We were on the second floor. The lift looked 'old' but it was very efficient.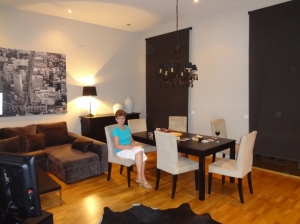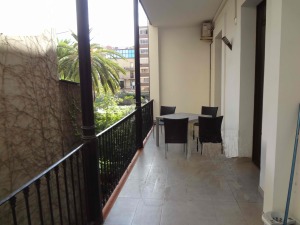 Dining / sitting area
                                                                                                                                                                                                                                                        Happy Hour area
Our location was about a ten to fifteen minute walk to the major shopping stores and the main city square – very convenient. Our first port of call was to the tourist office to familiarise ourselves with the layout of the city. While in the tourist office we bought tickets for the hop on hop off bus, for the two-hour ride to see the main sites. The hop on hop off company that we used had three different services – red, blue and green. The red service gave us what we were looking for, and also allowed us to change to the green service near the end of the tour. This change over point allowed us time for a quick bite of lunch, followed by the green beach hop on hop off bus, before catching the red service once again for the last couple of stops, and the end of the tour at our starting point.
As the sun set the lights of Barcelona added to the excitement of the city.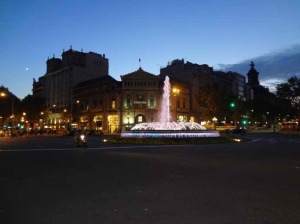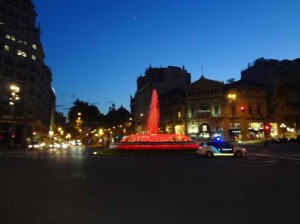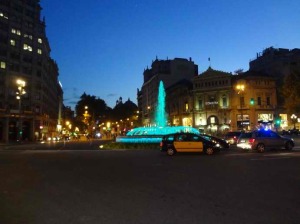 Barcelona is a vibrant and entertaining city with plenty of places to visit on foot, although we did use the metro system – buy ten trips and get a discount. We were four adults so we passed the card back and forth over the barrier every time we used the system – this worked very well and the system, being colour coded, was easy to follow after our first visit.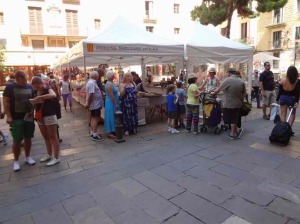 Small markets
and   narrow streets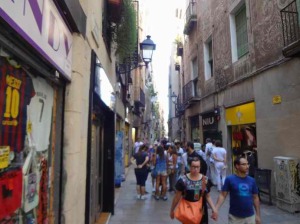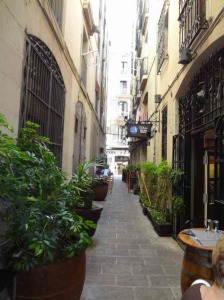 Back alley restaurants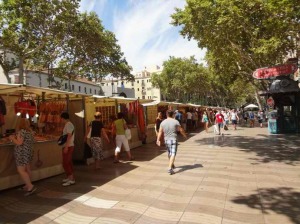 and of course larger markets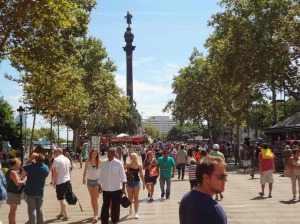 Over seen by Christopher Columbus
Our four nights in Barcelona just flew past, and on the final morning we were once again making our way to the railway station for the rail trip to Madrid. Once more we paid a little more for the extra room, but this time we were unable to book the four seats around a table, even though I had booked several months in advance. The trip, at three hours and twenty minutes, was smooth and comfortable. We reached speeds of 300 km per hour on some of the stretches, but one never had the feeling of rushing past the scenery in a blur.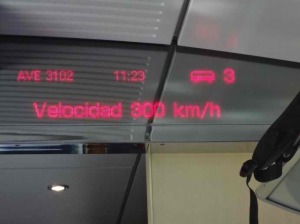 Madrid station is new, clean and modern – on the right, our train taken from the passenger bridge.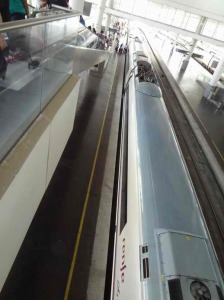 The station was spotlessly clean, and very impressive.
On exiting the platform area we were met by our driver. I'd booked a chauffeur driven car to meet us in Madrid, and at the end of our stay, take us from our apartment to Madrid airport. I did this because I wanted reliability on our departure day.
On our departure we were flying this time, rather than travelling by train. Although the chauffeur driven car was more expensive it accommodated four passengers and our entire luggage with ease. The trip to the airport would be during the morning rush hour, and we might have required two taxis, due to our luggage, and the thirty-minute trip could have been stressful and uncomfortable. I booked the transport through Spain Select, (www.spain-select.com/en) the company that handled the renting of the Madrid apartment. They were very efficient and easy to deal with over the Internet. Our greeter, Alex, met us at the apartment and explained everything in detail. A very nice touch was the welcome gift of individual small packets of tea, coffee, milk, savoury biscuits etc. To top it all, the apartment had a big 'Wow' factor particularly after seeing the old wooden door that led from the apartment block to the street.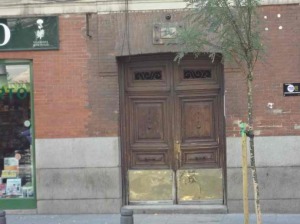 The apartment was on the second floor and the building had a 'cage' type Continental lift that worked well.
In our opinion the city of Madrid is less vibrant, but with a more historical culture than Barcelona. The free tapas with a beer were noticeable, because in Barcelona all the tapas that we had with our drinks, were charged to the final bill.
We booked a hop on hop off bus trip through a local travel agent. It cost us Eu 25.00 each, about $39. On boarding the bus we were given route maps, which included various pieces of information. Reading the information I noticed that for those of us over 65 were entitled to a discounted rate of Eu 13! ($18.50) I asked at the information centre if I had understood the information correctly and was told that we should go back to the travel agent and ask them for a Eu12.00 refund. Of course when we did return to the agent they were closed for siesta and due to our other commitments we never did have the time to challenge the travel agent. There is no way that I would be considered under 65 (my current age is 70) so I would expect a competent travel agent to offer the discount without being asked. The youngest of my group of four is sixty-seven, so the agent failed in her job and her customers felt cheated. Fortunately this experience did not spoil our enjoyment of our few days in Madrid.
On a more positive note the Spain Select apartment couldn't have been better. It consisted of two en-suite double bedrooms, a very large sitting / dining room and an open kitchen so that anyone working in the kitchen remained part of the conversation in the sitting room. The furniture was good quality and it was obvious the whole place had been professionally designed with its modern paintings, lamps, table dishes and window coverings. We couldn't find anything wrong with the place or the service received. Not that we were looking for faults, but if we return to Spain and wish to self cater again I wouldn't hesitate to use Spain Select.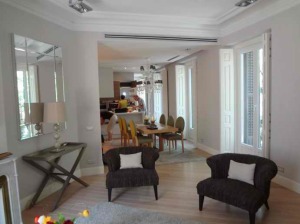 Dining / kitchen area taken from the sitting room area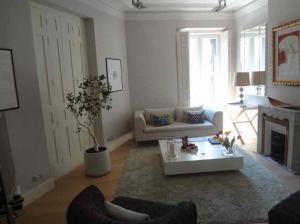 Sitting room area on the right
Main bedroom                                                                                 Second bedroom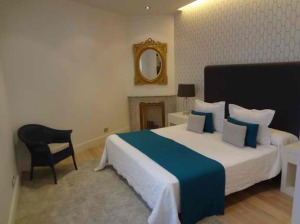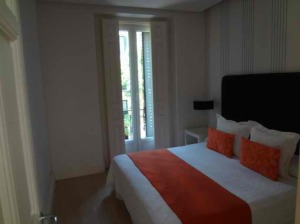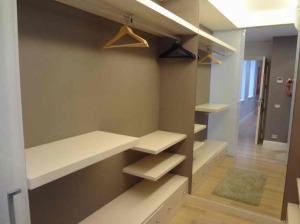 Dressing room off the main bedroom
En-suit second bedroom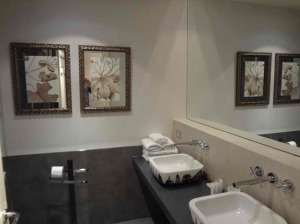 On our departure day we opened the street door a couple of minutes before our departure time, to find our transport waiting for us. The ride to the airport, during rush hour, took us thirty five minutes, even though the driver diverted a few times to avoid traffic jams. I do love efficiency, and reliability.
Check-in education started as we entered the airport building.  We checked the departure board for our Iberia flight (the national airline of Spain) for our check-in counter and made our way to the correct area. On arrival we found it all to be self-service. I placed my passport in a reader and it pulled up our booking. On completion of the check-in the computer required the number of bags that we were lodging. I input four, and the machine started to print our boarding cards followed by four self-sticky luggage labels. The machine then started a short video on how to strip the backing from the labels and to attach them to the bags, along with instructions to remove the sticky receipt label.
We then dragged our bags to a lodgement counter where a 'real' person accepted our boarding passes; asked us to load the bags on to a conveyor belt, and then pushed a button to activate the belt. The whole episode made me wonder how far the self service aspect of flying would be taken – perhaps the next step is to use a flight simulator before boarding, and the person with the best score gets to fly the aircraft. Those who just fail the flight test might become cabin crew to explain the safety procedure to the rest of us who are too thick to get involved.
The aircraft was an AB320 (not sure of the version) and the seats had been packed too tight. I am six feet two inches in height, so my knees were jammed in to the back of the seat in front. Every time the passenger in front moved I had to stick my legs out in to the aisle so as not to have my kneecaps damaged.
The flight was just over the hour, but it seemed much longer. Our destination was Lisbon, a city famous for its sardines, which are exported worldwide packed in tins. Of course after our flight, we re-christened Iberia to Air 'Sardinia'.
We had planned to take a night night train from Madrid to Lisbon to experience the rail en-suit sleeper service. After I'd investigated the train travel I realised that the train would arrive in Lisbon station at 7.00 am, and we would not be able to check in to our accommodation until 2.00 pm. What would we do with all our luggage for seven hours – I suppose we could have found a left luggage office, but as the station is not in the centre of the city we would have to find places of interest in a town that didn't open until mid to late morning. It all seemed too hard so we decided to fly and have a leisurely breakfast  in the Madrid accommodation and leave at a civilised hour of 8.30am for the airport. The additional benefit was that the airfare was cheaper than the rail fare.
On arrival I phoned the 'greeter' to let her know that we had arrived in Lisbon and that we were queuing for a taxi. As we reached the front of the queue I indicated that we required a large vehicle to accommodate our luggage. The vehicle assigned to us resulted in a shouting match between the driver and the taxi rank 'organiser'. The driver was eventually persuaded to accept us as his fare. To a point I sympathised with the driver because he was concerned that he couldn't see out of his rear window, due to our bags. We left the airport and I handed over a printed card with our address. The driver thought we wanted a hotel, not an apartment, and this apartment address threw him in to a right 'tizz', because he didn't have any idea of our destination, which was only ten minutes from the airport. I ended up ringing our 'greeter' and putting my phone on loudspeaker so that our she could direct a very unhappy taxi driver.
I'd booked the apartment via Flipkey, which uses Trip Advisor as the link. Our 'greeter', Filipa, met us, and escorted us to unit nine of the 17th floor of the apartment block. The apartment was two stories, the bedrooms being upstairs.
The living area was a combined lounge / dining area with the kitchen separate, but still part of the dining area. Outside we had a balcony with a table and chairs. The rails on the balcony reminded me of a ship's rail. We overlooked the city and the Tagus River.
The left picture is the view from our balcony. The right picture is the cable car along the water's edge, the cable car can be seen in the first picture.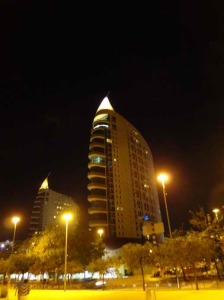 Our apartment block is the one on the right.
Getting about Lisbon was very easy via the under ground (metro) system. The route from Oriente station (across the road from our apartment) to the city centre was an education in itself. Each of the stations had a different 'art' theme, which we found very interesting.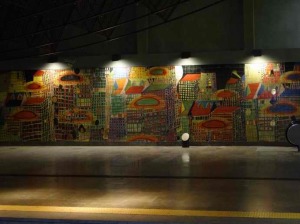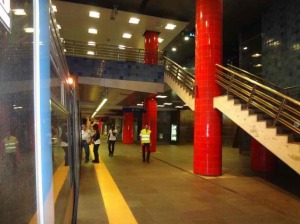 Our local metro station on the left – Oriente & further down the line a different theme;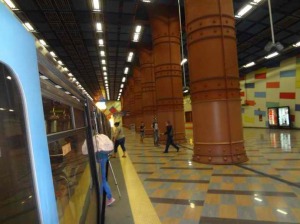 and as we got closer to the city centre the stations were different again.
We loved Lisbon for different reasons. In Paris, Barcelona & Madrid we used the hop on hop off services which were all very good. In Lisbon we hired a guide for five hours to ferry us around the city and to chat about the various sites. We used www.your-lisbon-guide.com a husband a wife team. Mary handles the tours and her husband, Rui, does the driving, so we were never bothered with finding a parking place. Mary is British, (Scottish) so we never had a language problem – Rui is Portuguese, with a great command of English.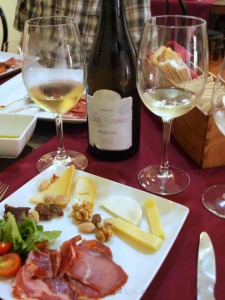 At the end of the tour we took part in a wine tasting session, which included various meats, cheeses and breads. The waiter explained the different aspect of each wine (we had four different wines), the origin of the various meats and the location of the cheeses. It was very pleasant way to end the tour (the wine tasting etc is not part of the tour, but an optional extra). We did not follow the traditional of spitting out the wine – it was far too nice a drop to do such a thing . . .
We had one 'damp' day so we decided to experience Tram 28 – the oldest tram in Lisbon. When we arrived at the tram stop we were faced with a very long queue – many others had the same idea.
Instead of queuing we decided to take the ferry across the Tagus River, to the small town on the other side called Almada. The ferry ride was only ten minutes.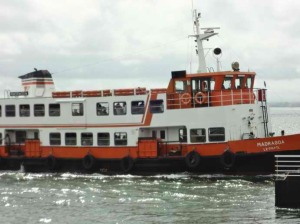 The restaurants area was a short walk from the ferry terminal, but on the way I noticed an old sailing ship . . . .
She was an old frigate. The submarine in front of the frigate (right hand side picture) had seen better days.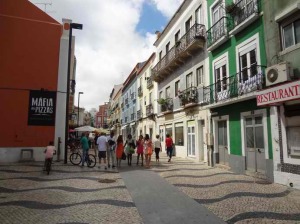 Nearly every building in Almada housed a restaurant of sorts, or at least the buildings, which were near the ferry terminal, had restaurants / cafes.
We picked the restaurant that appeared to have the most diners (mainly locals) and the food was very nice and tasty www.solarbeirao.pt
Lisbon centre is a town that one has to walk around, rather than use public transport. Quite often walking is quicker due to traffic delays. Trams packed, streets converted to sidewalk cafes, and other to walks ways. Great for a pedestrian.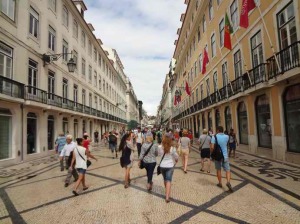 We had a day out to Estoril, a beautiful area on the Atlantic coast, a forty-minute local train ride from Lisbon.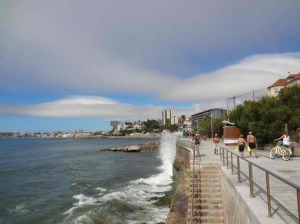 All holidays come to an end, so after five nights in Lisbon we had to begin the journey back to Sydney.
To be fair to Iberia our return flight from Lisbon to Madrid was much better in a more updated AB 320, which had a lot more space between the rows of seats.
We all know that the airlines recommend passengers to be at the airport three hours before departure. Being keen to comply with this request we arrived at Lisbon airport at 8. 45 am, for an 11.15 am departure and looked 'forward' to another educational check-in. This didn't happen because when we tried to use the system we were told that it was out of order, and to check-in as normal, at a counter.
We arrived at the Iberia counter and joined a short queue, which were waiting for the counter to open. Eventually, at 9.20 am, two check-in staff arrived and opened the counter, by this time the queue for the flight snaked back around the terminal, and terminal staff had to create 'corridors' to help control the queue. The return flight to Madrid was a much more pleasant experience.
I'd booked an airport hotel www.axorhoteles.com , the Axor Barajas, for our over night stop, before catching the mid-morning Qatar Airline flight to Colombo. As we walked out of Madrid arrival terminal the hotel transport pulled up along side, and twenty minutes later we were checking in to our rooms.
The rooms were impressive, particularly for an airport hotel, with a high turn over of guests. It was on the first floor, spotlessly clean, quite a large room and a bigger than average bathroom. I did consider booking a hotel in the city, but for a single night the trip into and out of town would have been Eu 60 round trip, and we would have had to leave the city too ealry for our 10.25 am flight. This to-ing and fro-ing was all too hard as far as we were concerned, so we stayed in the airport area.
The remainder of afternoon was spent in a local shopping mall about ten minute walk from the hotel – just right for our wives, because as they checked out the shops my friend and I kept the local mall restaurants happy. Lunch at the mall was fine, but we ate in the hotel in the evening. We were all glad that we chose the hotel dining room for our last meal in Europe, because the food was great, the waiter was excellent, and sitting outside in the hotel garden made the whole experience memorable.
We left the hotel the following morning at 7.00 am, for the short trip to the airport. Check in was a little strange as Qatar Airlines wanted to know all our onward flight details after we reached Colombo. When we checked in at Sydney the check-in person knew of all our flight sectors (a total of twelve sectors via five different airlines) even though I'd booked each one independently of each other, because the overall cost was cheaper than a single booking with one airline.
I showed the Iberian person our departure details from Colombo to Kuala Lumpur, but because Air Asia (the airline with whom we would fly) did not print the ticket numbers on the paperwork, this threw the Madrid check-in person in to confusion to such an extent that she had to call her supervisor.
I then showed her our Malaysian Airlines details for the trip from Kuala Lumpur to Sydney as further proof that we were not going to live in Sri Lanka. This satisfied both check-in person and her supervisor.
We passed through emigration and security, and realised how large Madrid airport had become over the years. Signs indicated that it would take us 22 minutes to reach our departure gate! This would involve a train trip, as well as a number of long walks.
The airport is beautifully designed and well sign posted, even though it took us a few minutes to realise how the system worked. The place was packed with travellers and everyone seemed to know exactly where they were going. Once we realised that a train was involved we became part of the crowd.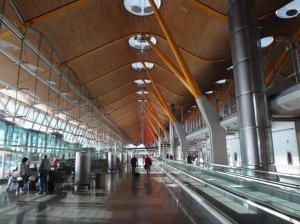 Upon reaching the satellite terminal, via an underground train service, the crowds were reduced dramatically.
At check-in we were pointed towards passport control, and then left to our own devices. Perhaps a short explanation about the train for the satellite terminal would help first time users of Madrid airport. Time from check-in to departure gate, took about an hour or more, with queues at passport control, security, and finding the train only to queue again to board the train. I was glad that we decided to leave the hotel so early.
Once in the satellite terminal we found the business class lounge and settled in for a spot of quite time, and our missed breakfast, because we had left the hotel so early. Below are a couple of pictures of the business class lounge in Madrid.
Our aircraft from Madrid to Doha was a B 777, which was very comfortable, but it does not have the personal 'pods' of the B 787. This is not meant as a negative comment, just an observation. It was a very comfortable trip, excellent choice of entertainment, and attentive cabin staff, so what should I complain about?
I could comment that I'd booked four specific seats many months earlier and had printouts as proof. Both on our outward leg and on our return leg we did not occupy the booked seats, but were moved towards the rear of the business class section. Having worked in the airline industry for ten years I am aware of the 'revenue per seat thinking', and I believe that the revenue generated from sales out of Sri Lanka is below average, so the low revenue passengers are accepted, but not accommodated in the same way as the higher revenue passengers from the more advanced countries.
We have used Sri Lanka as a low cost buying country for three Qatar Airline European trips, and only on our first trip did we get the booked seats, which makes me think the airline has realised that those with the time and ability have been taking advantage of their  system.
Fortunately Qatar Airlines are in the same group of airlines as Qantas, so we will be able to spend our Qatar frequent flyer points on domestic Qantas flights.
We transited again the new airport in Doha, an airport to be hold, on reclaimed land located next door to the original airport that we thought was out of this world two trips ago. The competition between Gulf ports to attract transit passengers to stay a night or two has become competitively fierce and hugely expensive for the transit country, but then it is our money they are spending after we have bought their oil.
In my opinion the business lounge of the 'old' airport has a much warmer feel than the business class lounge in the new airport. The staff in the new airport are all just as helpful and friendly as the old aiprot(I suppose they could be the same staff) it is just the ambiance of the new airport has a 'colder' feel.
The flight from Doha to Colombo was again a B 777 rather than the normal Airbus. I chose this flight to avoid an overnight hotel in Doha, because the business class seats on the B 777 aircraft convert to a bed, whereas the smaller Airbus seats do not convert. The downside of this flight is our arrival time of 3.15 am, but transport had been arranged to take us the hour and half drive to the Mount Lavinia Hotel.
The Mount Lavinia hotel used to be the Governor's residence in Sri Lanka during colonial times, before it was converted to a hotel.
We'd booked via the same agent that we used in 2006 www.donvoyages.com, and once again they didn't let us down. They fixed it with the hotel that we would be able to check-in around 6 or 7 am, without the penalty of buying the previous night.
All our yesterdays;
Mount Lavinia Hotel.
A little touch of colonialism;
old-fashioned service, and pith helmets.
Unpacking once again, and a quick shower for a well earned few hours sleep. Lunch on the terrace was relaxing and a couple of beers generated another 90-minute sleep during the late afternoon. The following day because of the two 'nanny' naps we had the feeling that we had been at the hotel a lot longer – we felt that we were in our second day when in fact, it was the evening of our first day. The feeling was quite strange.
Our stay at the Mount Lavinia hotel was pure R & R.
Perched on a small piece of land that sticks out in to the ocean and giving magnificent beach views on both side of the hotel.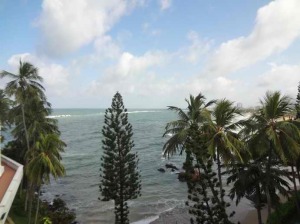 View from our bedroom
The friendly greeting by the staff was always warm, and many shook my hand when enquiring of my home country. The enthusiasm of the staff to please, without being obsequies, helped us to slow down after a hectic four weeks. We spent most of our time in and around the hotel, but we did venture out to see the Old Dutch Hospital, which has now become a souvenir, coffee shop and restaurant area. We hired a vehicle with driver from the hotel to takes us in to Colombo and to wait for us before returning us to Mount Lavinia. The overall cost for around three and a half hours was LKR 3750 about $35 for all four of us. The car was air conditioned, clean and the seats covered in white washable covers. Mount Lavinia Hotel seems to specialise in wedding receptions so I assumed the vehicle we hired was kept for transporting guest / bride & groom etc.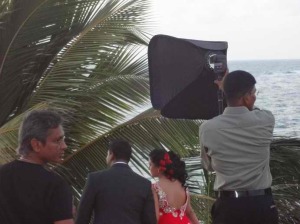 Wedding photography is a serious business.
On our first day we witnessed four wedding photographic sessions. We watched many photos being taken around the pool, some with the ocean as a backdrop, others on the private hotel beach, it was a perfect setting for weddings. None of the wedding receptions interfered with the regular hotel guest activities.
So are sunsets – we never tired of watching the sunset and trying to get the best shot.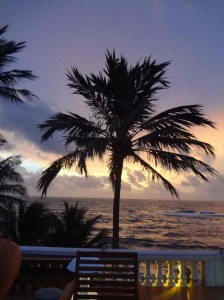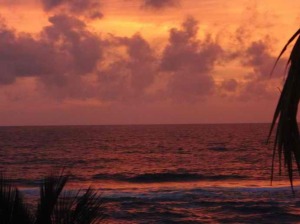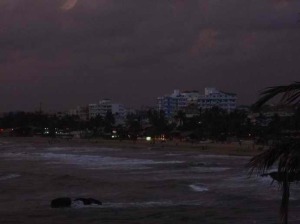 Pick your fish at the beach side restaurant (part of Mt Lavinia Hotel – the hotel owns the beach)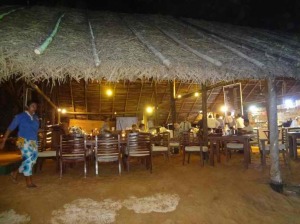 The sound of the waves a few feet away adds to the ambiance.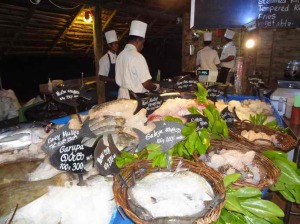 Pick our fish and tell the chef how big a piece you can eat, and he will cut it to your specifications – the cost is so many Sri Lanka rupees per 100 grams (depending on the type of fish), which includes salads & French fires or rice. All of the cooking is done in front of you. I ordered a tuna 'steak' to be cooked so that the centre was still slightly raw. That was exactly what I received. The exchange rate at this time was around 120 rupees to the Australian dollar, so my tuna at 260 grams was about $10.50, which included the French fries & salad. The food on the beach was so good we ate there twice, and once in the hotel restaurant (outside on the patio).
We had paid in advance for a 'best rate', so on check-out we only had our drinks, evening meals etc to consider. Using all of my Sri Lanka currency to avoid taking any out of the country, I paid the balance by Visa card, which should give me a few weeks to get back to normal, finance whys.
Our trip to the airport was faster than I expected – an hour and ten minutes, compared to the hour and a half that we'd experienced previously. The driver did not use the new freeway, but a number of scenic back roads, and as it was Sunday there was a reduction in overall traffic, but not it seems from the motorised tuk tuk, which seemed to have a charmed life dodging in and out of the traffic I even saw a police tuk tuk, but not its blue light.
I'd received an e-mail from Air Asia to confirm that the spare seat in a block of three might be available to purchase for  $11. I asked at check-in and it was free so this allowed my wife and I to spread out a little. As it happened, after take off, there were a number of free seats, so I had a centre row of three and my wife managed to score a window set of three – everyone was happy.
Our lunchtime flight (ETD 11.55 am) was uneventful and we landed at about 5.45 pm. It was a three hour twenty minute flight, and we flew two and a half hours in to the future. Clearing immigration was not a problem but waiting for our luggage seemed to take took ages, perhaps twenty minutes. Why I don't know. Once through customs we were met by our 'greeter' who escorted us to our ten seat mini-bus to meet our driver. Once loaded we departed the airport at 7.00 pm at a fast rate.
This we didn't mind, because we had booked the Pullman again, and Happy Hour had already started at 6.00 pm and we knew that the drive would be around an hour and that  we would be very lucky to be in the hotel before 8.00 pm. It was our lucky day – we were the driver's last job and he was due at a wedding 'breakfast' between 8.30 and 8.45 pm so he put his foot down because he didn't want to be late. Fortunately he was a very good driver and didn't take any risks. At 7.45 pm (the driver had shaved 15 minutes of the journey) we entered the hotel and informed reception that we had an Executive Floor booking. A lady came left reception and escorted us to the Executive Floor. While in the lift she asked if we had eaten dinner – we told he no and she asked for our passport, and told us to help ourselves to food and drink because there was only fifteen minutes of Happy Hour left and she would complete the check-in procedure and we could sign when we wished to go to our rooms. As far as we were concerned this was top service, and the standard that we had come to expect from Pullman Hotels. What a change from our visit a few weeks earlier.
When we left in mid August I was asked to fill in a survey by the hotel. I must admit I was not very complimentary. At the end of our second stay I was very happy to compliment the reception lady and the Executive floor staff (they were different than those on our first visit) because the whole experience was so much better. This Pullman Hotel was our sixth Pullman, so I considered that we were in a position to judge correctly.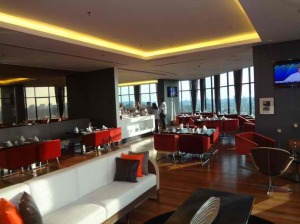 The number of guests using the executive floor was much lower this time than on our first visit, but I don't think this made any difference to the attitude of the new staff.
We stayed two nights in the Pullman, and after a light breakfast at 6.00 am caught a taxi to Sentral Railway station at 6.30 am. Malaysian Airlines has a system of allowing passengers to check-in at the station for their MH flight. It is a great system that we have used several times because it is so efficient. Once we are rid of our checked bags, we can enjoy the 28 minute high speed rail trip to the airport, because we only have to clear emigration and security when we arrive.
The 9.00 am flight to Sydney left on time and this time the service was very close to what it used to be some years ago. The cabin staff smiled, they offered drinks without being buzzed, they didn't ask us to close the window blinds, none of them fell asleep (not that I know of anyway) all in all it was a very good flight.
During the holiday we collected our bags nine times from various airport carousels – the longest wait, by far, was Sydney – we waited 40 to 50 minutes, after we had cleared immigration.  In Frankfurt we waited five minutes. At the Sydney carousel some bags would arrive, and then there would be a long gap before a few more from our flight, and this seemed to be the pattern. When we left to clear quarantine there were still people waiting at the carousel.
We met our driver outside who had been ringing his office to make sure that he had the correct airline, because of the long delay. Welcome home.