A war by any other name . . . . . .
Vietnam – 2007
As a group we'd 'done' Malaysia in 2005 and Sri Lanka in 2006, with a few days in Malaysia before and after our visit to Sri Lanka. So when I was asked 'Where next?' I was reading 'Brighton Rock' by Graham Green, so I thought why not Vietnam to see the Continental Hotel in Saigon (now Ho Chi minh), where Graham Green wrote much of his novel The Quiet American. Fortunately none of the group had been involved with the Vietnam War, so we didn't have any hidden memories to consider.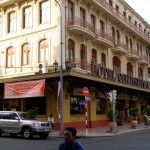 This is the hotel where Graham Green wrote much of 'The Quiet American', published in 1955.
Flying out of Australia, in 2007, we could travel by Air Vietnam or Qantas, but when I checked on the prices I realised that Air Vietnam had a virtual 'monopoly' on the route. Qantas did not operate their own aircraft, but sold tickets on their subsidiary airline Jetstar. Once I knew this I checked the cost of the Jetstar tickets. Still too expensive after one added various additional charges for food, drink, entertainment, etc . My wife & I and another couple had flown Jetstar on a domestic route for a ninety-minute flight. We found them satisfactory, but as I am over six feet tall (188cm in new money) the limited space in economy was tolerable for a maximum of ninety-minutes, so an eight-hour flight was out of the question, it had to be Air Vietnam. Or did it?
I spent some time checking a number of different airlines Malaysian Airlines (our old friend), which would require a night stop in Kuala Lumpur (more cost), Cathay Pacific via Hong Kong was too expensive, Thai International; a possibility over Bangkok, but they were expensive, so I finally checked Singapore Airlines and their rate was the same as Jetstar fare plus the cost of the additions for food, drink entertainment etc. In fact Singapore was a few dollars cheaper than the total Jetstar price, and much cheaper than Air Vietnam, so it was Singapore Airlines, but we would require an hour and a bit transit time in Singapore; but our bags would be booked through to Saigon.
I booked us all on SQ (Singapore code) and we left Sydney at 8.30 am and connected with the 2.40 pm flight from Singapore to Saigon, arriving at 3.45 pm local time. I found it ironic that if we'd have booked the more expensive Jetstar we would not have arrived in Saigon until around 10.00 pm.
After booking with SQ I realised that we could claim discounted hotel rates in Singapore, because we had a SQ ticket, plus using this airline gave us other benefits from discounted entrance fees to many places of interest, a free tour of Singapore, so a couple of nights in Singapore, at the end of our trip, was on the cards.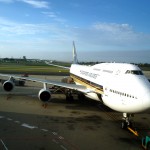 Having booked the tickets, now we required hotels – I researched various hotels in Saigon for a mixture of price, standard of accommodation, as we are too old for backpacker style hotel and not wealthy enough to disregard the cost. At the same time I contacted a number of local travel agency / companies in Vietnam for ideas and quotes for various tours. I found all of the companies that I contacted cheaper than dealing with an Australian travel company, but I did not have the buyer protection of dealing with an Australia company. Having already had dealings with travel agents in Malaysia and Sri Lanka I felt confident that I would be able to smell a con. In the end I decided to deal with a company called Aurora Travel, and the person who became my main contact was a lady called Van. She couldn't do enough for me, answering all my e-mails promptly, suggesting places to see, commented on my suggestions, some were positive and some negative, but always kind and friendly.
Between Van and my group, via yours truly, we finalised a tour and our hotels in Saigon (Ho Chi minh), Hoi An, Hanoi and Halong Bay. The whole holiday was going to be two weeks from the 28th February, to arriving back in Sydney on the morning of the 15th March. Our time in Vietnam was going to be twelve days with two nights in Singapore on the way home.
After my research of the hotels I picked the Windsor Hotel in Saigon.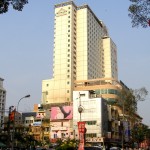 Windsor Hotel with shopping arcade underneath.
Van asked if I realised that this hotel was not in the centre, but that the hotel did offer a free minibus service in to Saigon centre. I was aware that the location was a little bit out of the town, but this didn't bother us, as we knew of the free transport. The actual time to get from the hotel to the centre is about five to eight minutes (depending on traffic) and we didn't consider it 'out of town' at all. The price of the Windsor Hotel fitted our budget, plus for $15 extra a night, we could have a room on the Executive Floor where they served food and cocktails from 5.00 pm to 7.00 pm. It was a 'no brainer' as we knew that wine was expensive in Vietnam and the Exec Floor served French wines. The best $15 purchase for a long time. I think the club floor was a new idea for this hotel, because the range and amount of food was quite large. It was much more than cocktail nibbles, being a range of hot food from fried rice through to various meat dishes, all very tasty. We did have one small problem; the bar staff kept the red wine in the fridge and the white wine on top of the fridge. It didn't take long for us to get things changed.

Hotel Windsor foyer
The bedrooms were a very good size, with comfortable beds and everywhere was clean and they offered non-smoking rooms, which is a huge plus for hotels in Vietnam, where I think smoking is compulsory. Both the bedrooms and the Club Floor had views across the rooftops of the city.
Hotel room
On the top floor, one up from the Executive floor, was a bar and a swimming pool.
View from the Executive Floor.
Khao, (pronounce Quar) our guide for Saigon and surrounding area, met us at the airport. Khao is married to an English schoolteacher, and at that time he was about to become a father. He has since become the father of Rosie.
Khao's command of English was very good, partly due to his father, who used to work for the Americans during the American War, and of course being married to Michelle, his English wife helped. Those of us in the West refer to the war between Vietnam and America as the Vietnam War, but in Vietnam it is called the American War.
The number of motorbikes is frightening, but after a while you get used to them and you are able to cross the road in safety even though the bikes are zipping past you at a rate of knots.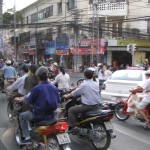 I used to keep an eye out for an old lady and I would follow her across the road. Age is revered in Asia and I knew that they wouldn't hit an old lady – I was right. Eventually I ran out of old ladies and had to make the trip on my own.
We had four days in Saigon (Ho Chi minh). On the first day we had a tour of the city followed by a visit to the War Remnants Museum.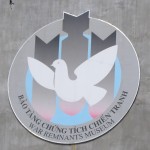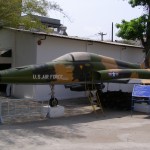 The place was full of US tanks, artillery, planes etc as well as N. Vietnamese equipment.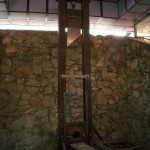 The museum also had a guillotine, which had been used in the 20th century.
From this museum we moved on to the Reunification Palace. It didn't register with me until we were inside the building and I looked out of the window and suddenly realised I was looking down on the spot where the N.Vietnamese tanks crashed through the gates and brought the war to an end.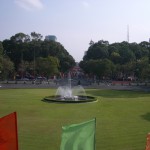 The tanks came up the road in front of the fountain and smashed through the gates.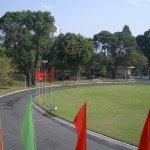 I'm not sure if you can see the two tanks, which are now museum pieces, but are kept on show as a reminder. It was very dramatic for me, as I can remember the TV news as the tanks arrived.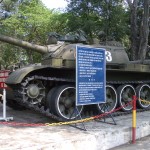 This is a close up of one of the tanks as a museum piece.
The viewing of the Palace, and hearing of the history of Saigon under the French, South Vietnamese, Americans and eventually the Vietnamese was very interesting.
In the afternoon we visited the tunnels, which are just outside Saigon.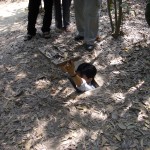 You can see how small the entrance to one of the tunnels is – this was our guide. Later we were shown tunnel opening, which have been enlarged to allow well-fed westerners to experience crawling along a tunnel.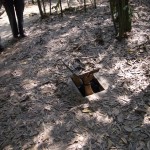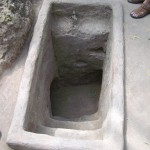 This is the enlarged opening of a tunnel entrance, just for us westerners.
The next picture is the entrance to a tunnel where you can crawl for about  30 metres underground. I tried it, but being rather large I become stuck in a tunnel and had to back crawl out. The tunnels have bends in them so you, as the crawler, blocks all form of light, which comes from behind. I could not see anything in front of me so wasn't sure where the tunnel went around a corner – another reason for me to get out. Some of our group did cover the whole underground course.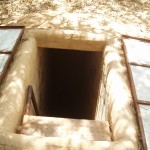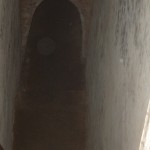 A shot of the tunnel, after climbing down the ladder from ground level.
Later we had the chance of firing an AK47 for $1 a shot – two of us 'invested' $10 for five shots each – last of the big spenders. We were aiming at targets about 75 meters away – I managed to hit the surrounding sandbags.
We were also shown various booby traps used during the war. The afternoon was very interesting, and brought to life how frightening the war was for both sides. Carpet-bombing to booby traps.
The following day we were picked up at 8.00 am and driven to the Mekong Delta. This was a full day. We crossed the Mekong in a small-motorised boat. Once on the other side, amongst the mangrove swamps, we switched to a much smaller boat, paddled by one man.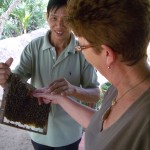 We visited a bee farm – the bees do not sting – just produce honey.
From here we moved on to a small factory that made coconut sweets, watched local dancing and then on to lunch. I'm not a big fish eater (can't stand the bones), but we were offered 'Elephant ear' fish.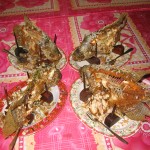 The above shows what was left after we got stuck in to the fish. There was plenty of meat on them; we also had very large tiger prawns, spicy beef, fried rice and vegetables so I couldn't complain about going hungry. And beer was included, of course, as it was HOT and humid!
The following day was a free day for some shopping. The curtesy bus from / to the hotel and the centre worked well and was well used by the guests. I'd stay at the Windsor again next time I visit Saigon or Ho Chi minh to be PC, even though the airport code is still SGN.
Our time in Saigon was over as the alarm went at 2.00 am for a 4.00 am pick-up, for the ride to the airport. Cardboard breakfasts are never my favourite food. For those who are wondering what is a cardboard breakfast it is a small individual cardboard box containing a piece of fruit, croissants (some stuffed with chocolate), a 'Danish' or two and a plastic drink container – could be fruit juice or water. Obviously the breakfast room is not open at 3.30 am, so we made do with a cardboard breakfast while checking out and waiting for our transport.
It was goodbye and many thanks to Khao as he left us at the airport to check-in for the 6.00 am Air Vietnam flight to Danang. Our final destination would be Hoi An, on the north east coast of the country.
Danang, China Beach and Good Morning Vietnam – with Robin Williams' Viva Danang comes to mind when I think of this area.
On arrival we were met by Phong 'Our man in Danang', which sounded like another Graham Green novel. (Our man in Havana). On the way to Hoi An we diverted to Marble Mountain as we could not check-into the hotel until Noon. The town below the 'mountain' lives off creating artefacts from marble. The problem is that they are no longer allowed to use the marble of the mountain so they import the stuff from Italy!
The climb to the top (via many, many steps) was hard going for us considering the early rise and the growing heat, but we managed to make it to the top.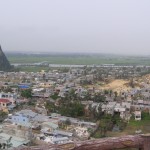 The view from the top of Marble Mountain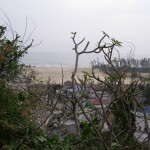 This is a view from the top of Marble Mountain towards China Beach.
Working the marble.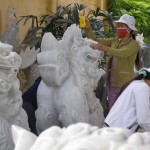 It was a spot of R&R for us as we made our way from the mountain down to China Beach. You can see a pillbox in the background.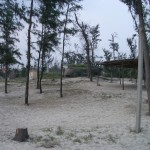 A close up of the pillbox on China Beach.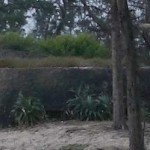 From China Beach we made our way to Hoi An. What a lovely small town that still has many of its old buildings in use. Narrow streets just made for walking. The pace of life is slow and for us it was just right.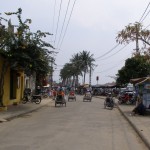 A street scene along Hoi An waterfront.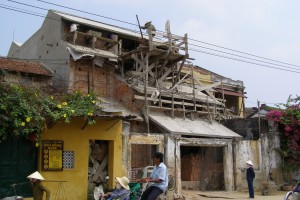 Health and safety – never heard of it  . . .  The man on the roof is hauling up a wheelbarrow full of mixed cement.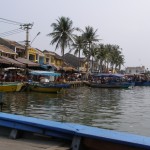 Hoi An from the river. A nice quiet setting.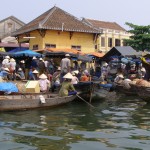 Market Day ?
The pool was clean and very pleasant for swimming. The rooms were dark wood furniture, with wooden floors for coolness. Fully air-conditioned. The only small problem I had while staying at this hotel was that they charged me for the small containers of milk after we had used the two in the fridge. Later they asked me to fill in a guest form being a foreigner, so I made the comment that charging for 20 ml of milk will turn people away as tourist object to being ripped – off.
I posted the comment card in the box provided, and we all went off for the day sightseeing. On our return I was asked by the Manager to join him as he had read my comments and wanted clarification. We had a very friendly chat and he accepted my 'complaint' about the charge for the milk – the charges were cancelled, and he put out instructions that the front desk would no longer charge for small items. The Manager was very interested in what I had to say, and asked me about the different hotels that I'd stayed during the previous couple of years. He only had local hotels to judge if he was offering the correct service to international travellers, so he was very keen to learn.
Hoi An is famous for its tailoring industry. There are many tailoring shops and you can order a tailor made suit or pair of slacks or shorts at 9.00 am and they will be ready at 5.00 pm. If they are not ready they will deliver free of charge to the hotel (delivery is free, not the garment) – one of our group had a small problem with the fit of a finished article at 5.00 pm. The problem was fixed and the goods delivered to the hotel around 9.00 pm. A sale is everything.
There are a few cars in Hoi An; plenty of motor bikes and peddle trishaws for getting around.  We had a large choice of restaurants and street cafes – all are inexpensive, except for the wine, but what you save on the food and beer goes towards the wine – not a problem really.
I knew that the group loved Asian food s when booking the holiday I also booked us all to attend a cooking school. To get to the school we had to go by boat.
The trip itself was interesting as we passed fishermen and local duck farmers.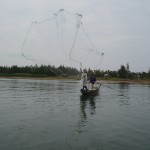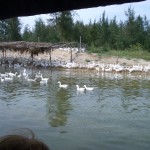 The school was a great experience. We were shown how to prepare various dishes and we were told that what ever we produced was our lunch (the price of the education included lunch!). We were expected to carve cucumber in to a fan design, split tomatoes in a particular way and use one of the cooking rings to produce eggplant soup, fresh rice paper sheets, Hoi An pancakes and more. All of this was outside under a suspended roof area (no walls) for coolness and the people showing us how things were done were very helpful and entertaining, particularly the chef who was very funny. I was surprised at the lack of flies; consider all the cooking and raw ingredients.
At the end of our lesson we were invited in to the main house for cool drinks. It was here that we found out that we were not expected to eat the food that we had prepared. A full lunch was laid on with soft drinks. We could have wine & beer (an extra cost) but it was inexpensive.
On the way back the boatman was kind enough to let me pilot the boat back to Hoi An. It reminded me of my time at HMS Conway and when at sea using the lifeboats to go ashore.
Not far outside Hoi An is Myson ancient monuments of Hindu worship temples built around 400 AD.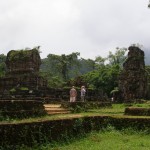 During bombing raids the people would hide in the surrounding caves. It was unfortunate that some of these remains where damaged in the bombing.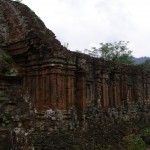 Our guide was nice and friendly and very pleasant, but his English was not as fluent as Khao in Saigon. On the other hand, my Vietnamese wasn't very good either.
We had three nights in Hoi An and if I return to Vietnam I will make a point of visiting Hoi An again, as I found it to be a very friendly and pleasant place. If you do visit Hoi An try the Cargo Club bar & restaurant overlooking the river. Book an evening table upstairs and watch the lights on the river. Food was great, the wine was good and the ambience was just 'spot on'.
From Hoi An we flew from Danang by Air Vietnam to Hanoi. What a change in the weather. The previous two week in Hanoi had been beautiful (or so we were told), but we had to visit Hanoi in the coldest snap that they had for years, considering the time of year. It was cold and wet and we were rigged out for the tropics.
Phnong, our Hanoi guide, met us at the airport (in a heated bus) and took us to the Hoabinh Hotel – old world charm with a strong French influence. Our room was quite large with a small sitting room attached – all open plan.
The following morning I met Van. I had paid a deposit via bank transfer from Australia and when the money arrived it was $30 short due to the Singapore bank taking their cut, although when I asked my bank (in Sydney)  if there would be any additional charges. I was assured that there would not be – no comment. I asked Van, by e-mail, how did she want me to pay the balance of the travel agent fee and she told me not to use the banks, but to bring cash and to choose whether we paid in Saigon or Hanoi. I chose Hanoi and asked her if she would visit our hotel to accept the cash so that she could meet the group, and we could thank her for all her work. So we met Van in the hotel foyer and paid her the outstanding amount. It was a pleasure doing business with Aurora Travel and it was all down to Van's focus on customer service.
Later that morning a two hour cycle tour had been arranged – fortunately it was via trishaw and we were not expected to peddle.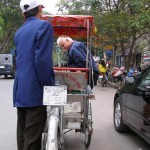 Yours truly climbing aboard
I felt sorry for the guy peddling considering my weight, but he managed. We had eight trishaws, one for each of us, and moved out in convoy. The locals seemed do be used to convoys of foreigners. The problem with the open seating is the petrol & diesel fumes – one learned to keep ones mouth shut and hold your breath. Many of the locals wore facemasks. After the trishaw trip we ended up in the food market – now that was interesting.
What's refrigeration?? The lack of refrigeration didn't seem to bother anybody and they all looked healthy.
If you are in Hanoi the Water Puppets are a must. I had no idea what they were, but the skill of the operators keep you enthralled. It is about a 40-minute show, which is not expensive – but it is a 'must'.
About 6.00pm we entered a very old building in the old part of Hanoi and climbed narrow rickety stairs to a restaurant, which served nothing but fish. This restaurant (Grill Fish or Cha ca Hanoi) had been in business for over a hundred years and was famous for it fish dishes. We were the only foreigners in the place. We sat on benches at long wooden tables with burners set in the middle. The fish was brought to us in pans of oil and set on the burners. Chopsticks were supplied to pull the fish off the bone. In addition to the fish, which was emersed in hot oil, we were also supplied with vegetables, vermicelli noodles, chilli and peanuts. For our taste we found the high oil content slightly off putting, although we did enjoy the experience. I thought we were going to make a night of it, but the routine was that you were in and out of the place within an hour. Service was fast (as one could imagine with only an hour to serve and eat) and at the end we had to descend the rickety stairs. Perhaps with hindsight the in and out process being so fast saved us from imbibing too much and falling down the stairs. The stairs would have been condemned in the West.
The following day we climbed in to our minibus for the trip to Halong Bay. The drive is about three and a half hours. It was an interesting trip particularly watching the motorbike drivers taking live pigs to market on the back of their bikes.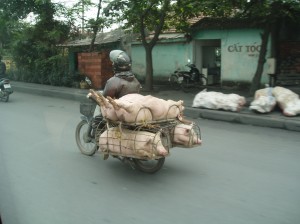 We would only be away from Hanoi for one night and the standard practise is for the hotel to lock up our suitcase in a secure area. We just carried an overnight bag each. On our return, the hotel allocated, to my wife and I, the same room as we had at the beginning.
On arrival in Halong Bay we boarded our 'Junk'. But which on was ours. . . . there seemed to be dozens all clamouring for jetty space. The picture doesn't give the full 'picture' if you will excuse the pun. We were told that there are 500 junks.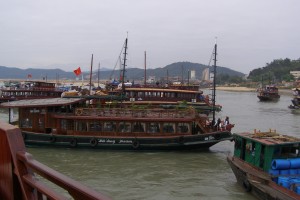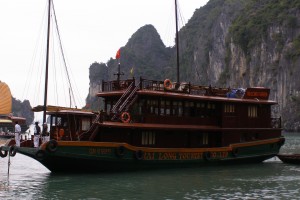 Eventually we found 'Halong Green' which was our junk
The junk had six en-suit cabins, but as we were party of four couples, the whole junk was allocated to us.
The cabins were OK. They were air-conditioned with a double bed, plus they also had small fans. We found the temperature to be cool enough not to require the air-conditioning, but warm enough to sleep with just the fans. The en-suite consisted of a toilet, shower and washbasin. Towels etc were supplied.
As soon as we boarded, she sailed. At times if was like a convoy, as quite a number sailed around the same time. I wondered if we would be in a race, but all the junks just sailed slowly through the still waters of the Bay.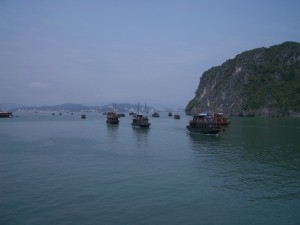 Later they rigged the sails, but at the beginning they used their motors.
On the top deck there were sun lounges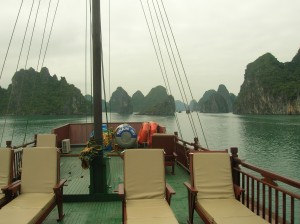 The next deck down was the dining area and bar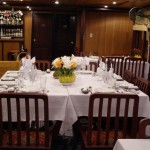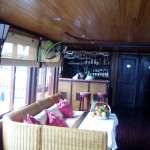 All meals were included in the rate and an honour system allowed one to help ones self, from the fridge for soft drinks and beer. Wine was also available, and it was chilled correctly!
As soon as we boarded and dropped our bags in our cabins, lunch was served. Three course lunch while we floated past beautiful scenery, with small islands everywhere. In the afternoon we reached an island of grottos called Hang Sung Sot. We disembarked and climbed the stairs to enter the grotto, along with a number of other people from other junks.
The grotto was so large that they had walkways with fences.
Later we stopped at Tip Top Beach on Tip Top island, which gave a panoramic view of Halong Bay as long as you didn't mind climbing the 500 steps to the top.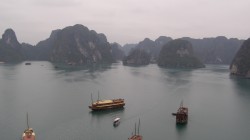 Taken from half way up – puff puff – pant . . .
Back on board to watch the sunset from the top deck, and as we cruised in to a secluded bay we met other junks all lit up for the night.
Then it was dinnertime. The birds and flowers were carved in the afternoon from vegetables, while we were sightseeing. The chef used cucumbers, large white radish, carrots and melon.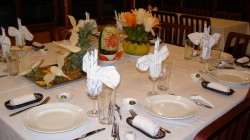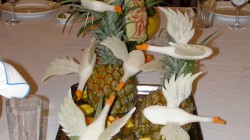 After dinner it was off to bed, very comfortable and due to the long day and fresh air slept like a baby.
Had a small problem on waking – no water in the en-suit  . . . .it was fixed eventually.
Breakfast was a 'cold' cooked breakfast – cold ham with fried egg (not too hot), fruit, cheese, juice and coffee. It filled a hole.
After breakfast we climbed in to a sampan and were rowed in to an old volcano. The entrance was through a hole in the side of the volcano – and for some reason as soon as you passed in to the flooded volcano everyone, without exception, only spoke in whispers. We where not asked to lower our voice, but it was just something about the place that demanded silence. It was a beautiful feeling of absolute quiet except for the occasional bird call. We just floated, even the oarsman at the stern stopped rowing so as to experience such tranquillity.
Entrance hole in to the flooded volcano          Absolute silence inside                   Taken from inside the volcano looking out to the anchored junks.
As we left the volcano a sea mist drifted in and began to gather all around. Many of the island now appeared as shadows. Some if the island had special names due to their shape – Indian Chief – the island on the left.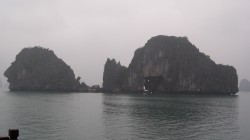 We were served an early lunch as we were now on our way back to the wharf and civilisation.
Followed by a three and a half hour drive back to Hanoi.
During the following couple of days we visited the Temple of Literature, a temple with a statue of Confucius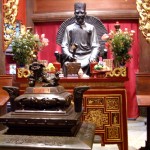 We also visited the Ho Chi minh mausoleum, where we saw his embalmed body in a glass case. He died in 1969. His body (so we were told) is shipped to Moscow every year for the embalming fluids to be changed.
Queuing to get in to the mausoleum was different . .
No shorts for ladies, and men's shorts had to come down below the knee. A large number of school children, as well as adults were always milling around. A parade ground type of square was in front of the building. Armed guards patrolled the queue to make sure there were no unseemly movements or comments and of course laughing was not encouraged. Yours hands were expected to be by your side, definitely not in your pockets. Being guests in another country we accepted the host's rules, but they did make one feel uncomfortable.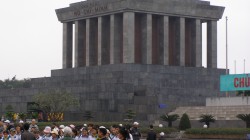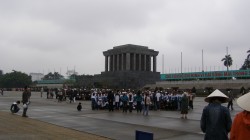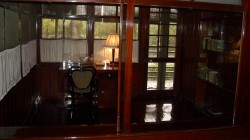 Across the way from the mausoleum is the house and offices where Ho Chi Minh lived and worked.
The visit to the French colonial Hoa Lo prison was an eye opener. It was also known as the 'Hanoi Hilton' during the Vietnam / American war. The name Hoa Lo also means 'fiery furnace' after the street in which is stands, as this street was famous for selling wood fired stoves.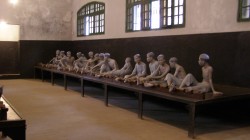 It was built from1886 to 1889 to house 460 prisoners and was expanded in 1913 to hold 600. In 1916 the prisoners being held were 730, by 1954 it held 2000 prisoners and in the 1960's it held American prisoners of war.
I think the guillotine was last used in the 1930s.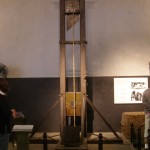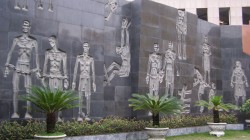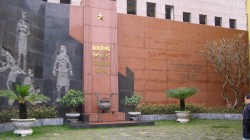 Outside garden area, but within the walls of the prison, a memorial has been created.
We also went round a created village to show the various different peoples that made up Vietnam, which means Nam = south and Viet = is the name of a people.
Each 'tribe' had a different style of house.                                            Creating fish traps
Included in our tour was lunch, which we had at the Ha Hoi Restaurant. The food was beautiful and the ambience was just right – very colonial French. We intended to return in the evening for dinner, but late in the afternoon it started to rain and the rain grew very heavy (unseasonable monsoon), so we ended up eating in the hotel, because to try and go out in the heavy rain would have been stupid. Plus we were flying out next day to Singapore and who wants a suitcase full of wet clothes.
Overall the trip to Vietnam was a great success and everyone enjoyed the experience. The cost per person was US $721, which included a guide and transport in each town, all hotels, (bed and breakfast & Happy Hour in Saigon each night), airport pick-up at Saigon & drop–off at Hanoi. The Halong Bay junk tour (with all meals), other meals were – the Mekong Delta lunch (elephant ear fish), cooking class & lunch at the cooking school, grill fish restaurant in Hanoi and finally lunch at the Ha Hoi Restaurant.
The two flights, Saigon to Danang and Danang to Hanoi were an additional US $120 per person, for both flights, which included airport taxes etc.
Our international ticket via SQ was, Sydney / Singapore / Saigon / Hanoi / Singapore / Sydney at US $1000 per person.
A twelve-night holiday for US $1,841 per person was not bad, when compared to a travel agent.
We did have an additional cost of two nights in Singapore of US $153 for bed & breakfast for two nights. This discounted rate was due to us flying with Singapore Airlines, plus we had additional bonus offers of free hop on hop off bus and various entrance fees to places of interest, to discounted entrance fees at the likes of Sentosa Island.
Cable car to Sentosa Island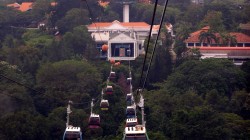 We were away for a total of fifteen nights, including the night flight back to Sydney.